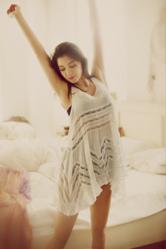 With expert stylists and a great selection of product, Free People is truly an essential shopping destination for intimate apparel.
Philadelphia, PA (PRWEB) June 21, 2013
Specialty clothing brand, Free People, will celebrate the rapid growth of its label, Intimately Free People, with the launch a nationwide event this month. Just off the heels of its Intimately Free People 'Neighbor' campaign starring UK it girl, Daisy Lowe, Free People continues the excitement with a series of events aptly titled, 'Girls Night In.' The events will be hosted in 33 Free People boutiques across the U.S. and Canada on June 26th, 2013, from 6pm to 8pm.
A newer label for the brand, Intimately Free People has seen such success and is now carried in nearly half of Free People's 83 boutiques. Thirty-five locations feature Intimately Free People shop-in-shops, and the brand launched its first dedicated intimates shop with the opening of its Toronto boutique last year. Styles carried under Intimately Free People include a variety of bras in underwire, soft, and soft-lined styles, undies, slips, seamless layering pieces, lounge, and sleepwear.
The label has really taken off, with the stores carrying 30% more styles on average. In response to the more plentiful stock, Free People in-store stylists have spent the past year going through bra fit training to expertly assist shoppers in finding the perfect fit.
The 'Girls Night In' events will include a sachet DIY for customers to put together scented pouches for use in freshening drawers and linens. Free People's expert stylists will be on hand for bra fittings and styling suggestions, showing off the many ways Intimately Free People can be layered into their wardrobes for the coming summer months. Each event will include a raffle, giving attendees the chance to win an Intimately Free People set including the Cheeky Lace Bra and a Lacey Basic Hipster Undie or Lacey Thong.
"Many fun things are happening for our Intimately Free People label. I'm excited to have fans come in and join us for 'Girls Night In' to celebrate the line." say Sheila Harrington, Director of Merchandising for Free People. "With expert stylists and a great selection of product, Free People is truly an essential shopping destination for intimate apparel."
A complete list of participating stores can be found on the Facebook event here (https://www.facebook.com/events/153830861468694/). Fans should also visit the Facebook event to RSVP and for more info.
About Free People
Free People is a specialty clothing brand featuring the latest trends and vintage collections for women who live free through fashion, art, music, and travel. The bohemian look consists of quality apparel, shoes, and accessories that invoke attributes of femininity, spirit, and creativity with its design. Free People is distributed globally via direct channels, including the Free People US site and Free People UK site, as well as specialty boutiques, top department stores, and the brand's own free standing retail locations in the U.S. and Canada.