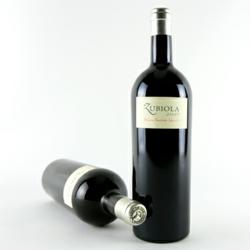 Vienna, VA (PRWEB) June 23, 2013
Classe Wines has recently obtained fifteen cases of 2007 Pago de San Gabriel Zubiola Lote No.1 Edicion Limitada, a unique Spanish red wine from Navarra, offering Spanish wine enthusiasts a unique opportunity to add this wine to their collection while it is still available. It represents a chance to purchase a Spanish red wine with a creamy, toasty, and complex taste that has been rated 91 out of 100 by Guia Penin. The fifteen cases that classewines.com is offering for sale are part of a limited edition lot, and once these have been sold there will be no more reserves of this wine left anywhere in the world.
2007 Pago de San Gabriel Zubiola Lote No.1 Edicion Limitada is a limited edition wine that is made from 80 percent Cabernet Sauvignon Grapes, which are blended in with 15 percent Merlot grapes and five percent Cabernet Franc grapes. When this wine was reviewed by Guia Penin, it was given a score of 91, and reviewers noted its creamy, toasty taste was an embodiment of complexity. It possesses a powerful flavor with notes of spicy flavor and oak. It has a unique ripe fruit smell that contains hints of cola as well as cinnamon. With a taste of sweet blackberry and casis it is much more intense than regular Zubiola wines, and it has a sappy, persistent finish. It is great wine to serve guests at dinner with lamb, beef, or goose, or for more informal snacks with Brie, Camembert, bleu cheese or any other Spanish cheese or cold cut. This exclusive wine will make a fine addition to the collection of anyone who is enthusiastic about Spanish wine.
This wine's unique flavor and aroma comes from the grapes from which it is made and the place where it is produced. The unique flavor of Cabernet Sauvignon grapes originated with an accident in the 17th century in France, where they originated. An online article from Snooth published on March 5, 2013 by Caroline Henry entitled "The Capitols of Cabernet" relates from wine botanist Jose Voillamoz how Cabernet Savignon emerged naturally from a cross between Sauvignon Blanc and Cabernet Franc grapes in vineyards where both varieties were planted. They were later introduced into Spain by Marques de Riscal.
This limited edition wine is produced at Bodegas Olarra winery in Navarra, which is owned by winemaker Luis Olarra, who comes from a winemaking family who originated in Rioja, which is nearby. His winery has seven buildings, and ages its wine in 450 barrels of high quality French oak. He cultivates both new and old varieties of grapes, and produces several types of distinctive red wines, including Pradomayor de Zubiola, and its flagship wine Zubiola. These fifteen cases obtained by class wines represent a unique opportunity to purchase this exquisite Spanish red wine. It is available from classewines.com for $1,745.42 per case (twelve bottles), $881.71 per half case (six bottles), and $149.95 per bottle. Visit classewines.com or call 1-800-793-9141 to order this wine today before it's gone.