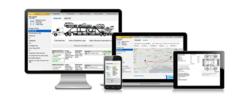 The auto transport industry has fallen far behind in leveraging available technology, says Chuck Lightner, CEO Auto Load Logic.
Abilene, Texas (PRWEB) June 27, 2013
Today, Auto Load Logic releases an unequalled software solution for managing vehicle transport. Targeting the underserved used vehicle transport market, it simplifies and streamlines the increasingly-complex transport problem faced by companies specializing in vehicle transport.
The Auto Load Logic system is VIN-based and provides users the ability to manage shipments on-line from finding needed services and contracting for those services through vehicle pick-up, real-time location tracking and delivery. ALLs mobile apps, available for both Apple and Android devices, allow carriers to scan VIN plates, perform photo inspections and obtain electronic signatures at both pick-up and delivery. Users can provide customers optional tracking facilities increasing in-transit confidence and reducing time spent updating shipment status.
"The tools available to the used vehicle transport market have fallen far behind those in the new vehicle market and they have failed to leverage available technology, " says Charles Lightner, CEO of Auto Load Logic.
"I've spent years in this business struggling with inadequate tools. It's time this market was given the attention it deserves. We're doing that with Auto Load Logic, " says Deron Balch, the company's COO.
"The easy to use and fully integrated systems that are provided within ALL will allow Shippers, Brokers and Carriers to significantly increase operational efficiency, reducing both cost and risk. That's critical in the increasingly cost-conscious transport environment" according to Lightner.
"The patent-pending load selection and load configuration technology is the first meaningful advance provided Carriers in this market segment in many years," says Balch.
Registering to use ALL is free, as are the posting of loads, providing quotes for service, and use of the analytical elements of the software. Only when users actually transact business via ALL will they be charged.
The cost to Shippers is $5.00 per vehicle. Brokers and Carriers will pay one-half cent per mile for each vehicle subject to a minimum of $2.00 per vehicle.
A short overview video is available at Auto Load Logic video and more detailed descriptions of the system, its functions and the company are available at http://www.autoloadlogic.com.
About Auto Load Logic
Auto Load Logic, LLC is a software company founded in 2011 in Abilene, Texas. It was formed by industry professionals convinced that the tools available for managing used vehicle transport had fallen far behind both industry needs and available technology. Their commitment and passion to redefine the industry drives this company. Its fully integrated end-to-end system delivers on that commitment.