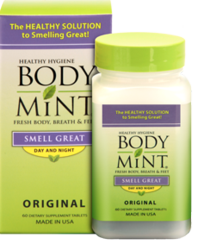 Los Angeles, CA (PRWEB) June 23, 2013
Body Mint-USA recently announced their revolutionary deodorant product, Body Mint and revealed to consumers that unlike traditional deodorants, Body Mint comes in pill form. The makers of Body Mint face skeptical consumers when they mention that Body Mint is a deodorant in pill form until they explain that this revolutionary product works from the inside out to suppress body odors before they are excreted through the skin. According to a company spokesperson, "When consumers realize they can take one pill a day and avoid both body odors and the harsh chemicals of traditional deodorants, they are sold on this product."
The Body Mint tablet is easy to add to a daily routine and one tablet in the morning keeps body odors at bay throughout the entire day. Body Mint is all natural, and the active ingredient is chlorophyllin, a derivative of chlorophyll. Each Body Mint tablet includes 100 mg of chlorophyllin and has been designed to target odors throughout the body, including breath, underarm, perspiration and foot odors. It is this ability to target multiple odors that makes Body Mint so appealing. Rather than have several products, each targeting a different body odor and each containing different levels of chemical elements, consumers now have one small tablet that is filled with natural ingredients and that attacks and alleviates body odors at their source before they can be released into the air.
Body Mint is aluminum free and that is of great importance to many consumers. Aluminum is the active ingredient in traditional deodorants and each day millions of people spread this aluminum under their arms in an attempt to reduce perspiration and the odors that come with it. Some consumers cannot tolerate aluminum and others simple are uncomfortable with the idea of using aluminum-based products. Body Mint means they never have to use aluminum again and there is the added benefit that Body Mint is filled with helpful antioxidants that promote general health while.
Body Mint is currently available on the Body Mint –USA website and those who want to learn more about Body Mint can visit this website at http://bodymint.com/ or call 1.866.263.9646 to speak with a company representative. Body Mint also has a presence on Facebook, Twitter and YouTube and when visitors go to the Body Mint website they are able to chat live with an expert on the product.
About Body Mint-USA, LLC
Body Mint-USA, LLC is a subsidiary of Hawaiian Organics, LLC. The company was founded in 1997 with the mission to research and develop unique and healthy products that enhance the quality of life. Body Mint is Hawaiian Organic's first and most successful product. Body Mint is a natural, body and breath deodorizing/freshening tablet that is basically a deodorant in a pill as a Chlorophyll Supplement.