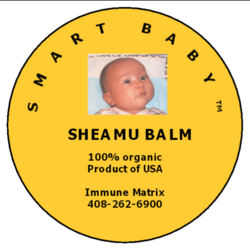 The best anti-microbial healing skin balm for babies – Sheamu Balm.
Milpitas, California (PRWEB) June 21, 2013
Smart Baby™ is co-sponsoring the annual SF Bay Area Birth & Baby Fair to be held at the San Mateo County Event Center located at 2495 S. Delaware Street, San Mateo, CA. Smart Baby™ will be launching its organic line of baby skin care products and its innovative weight loss program called Immune System Weight Loss Program to help lose that baby fat after delivery and to break through weight loss plateaus. No other medically supervised weight loss program exists in the country like this!
Alternative Medicine Clinic
920 Hillview Ct. Suite 140
Milpitas, CA 95035
408-262-6900