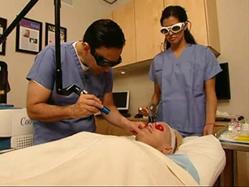 Los Angeles, CA (PRWEB) June 24, 2013
According to a June 12, 2013 Chicago Tribune article, titled "Harvard Experts: Sun Protection and New Treatments Help Aging Skin," the sun is responsible not only for visibly aging your face, but it is also a major culprit behind multiple types of cancer and other illnesses. One must always consider the sun not only a source of warmth and light, but also a source of radiation. As such, the sun is very much an enemy of good skin (Go to goo.gl/MMtcw).
"Preventative measures should simply be a part of your daily skin care routine," says Dr. Simon Ourian, Medical Director of Epione Beverly Hills. "Wearing sunscreen, SPF 30 or higher, year round will help to protect the skin from the sun's impact. Likewise, wearing a hat on a sunny day will also help you to remove some of the danger."
According to the article, many people go through their lives without undertaking proper skin care. Daily sun exposure will likely lead to photo-aging, the process that causes wrinkles and sagging skin. For those already feeling the impact of the sun it is important to prevent further damage. Undergoing certain treatments may help reverse the damage that has already happened.
"There are a number of treatment options available for those who want to get rid of the signs of aging," says Dr. Ourian. "We offer laser treatments that can help get rid of spots on the skin and wrinkles. Botox and injectables such as Juvéderm and Restylane can also be used to address wrinkles."
Dr. Ourian has been a pioneer in laser technology and non-invasive aesthetic procedures including Restylane, Juvéderm, Radiesse and Sculptra. These treatments are used for the correction or reversal of a variety of conditions such as acne, acne scars, skin discoloration, wrinkles, stretch marks, varicose veins, cellulite, and others. More information about preventing sun damage can be found on Epione's website.