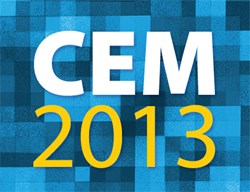 The Customer Engagement Marketing Summit is a can't-miss event for marketers and customer experience professionals
Atlanta, Georgia (PRWEB) June 24, 2013
PossibleNOW, the leading provider of customer experience and enterprise preference management solutions, today announced plans to host the second annual Customer Engagement Marketing (CEM) Summit on September 26-27 in Atlanta. The 2013 CEM Summit will focus on moving beyond experience to engagement – meaningful interactions that evolve as consumers' needs and preferences change.
"Modern marketing is a relationship, not an interruption," said Scott Frey, CEO of PossibleNOW. "We live in an opt-in world full of perpetually-connected consumers who expect to be understood as individuals and whose behavior blurs the lines between sales, marketing, support and service. The CEM Summit is truly unique in that it recognizes the new rules of engagement and offers practical content designed to solve the challenges of tomorrow, not yesterday."
"Today's marketers have more data and better tools to build personalized customer relationships than ever before," said Phil Grudzinski, CEO at PACE, the Professional Association for Customer Engagement. "When you combine preference data with profile and behavioral data, you've got a solid foundation for forging lasting customer relationships. That's what the CEM Summit is all about and why it's a can't-miss event for marketers and customer experience professionals."
Attendees will participate in interactive sessions with a range of experts and representatives from global brands including SAP, Chick-fil-A, MassMutual, Marketo and more. The event will also include presentations from Lisa Agona, Senior Vice-President and Chief Marketing Officer at LexisNexis, Sandi Finn, President of Cross Country Home Services and Eric V. Holtzclaw, Vice President and General Manager at PossibleNOW and author of Laddering: Unlocking the Potential of Consumer Behavior, available from Wiley publishing this summer.
With a focus on the critical roles that preferences, personalization and privacy play in executing high impact global marketing campaigns, the CEM Summit will include a variety of learning and interaction opportunities including breakout sessions, expert panels, roundtable discussions and networking events.
To register, view an agenda or learn more about featured speakers, go to http://www.cemsummit2013.com. Early bird registration savings expire on July 31 and hotel reservation packages are limited.
# # #
About PossibleNOW
PossibleNOW, headquartered near Atlanta, Georgia, is the trusted source for enterprise preference management and compliance solutions. PossibleNOW leverages its expertise in information technology, database management, customer engagement, and consumer privacy and regulatory compliance to provide SaaS-based applications. PossibleNOW's MyPreferences® is an enterprise preference management solution that effectively collects and manages the contact preferences of customers and prospects including servicing, privacy, marketing (opt-in and opt-out) across all marketing channels and makes the preference data actionable. MyPreferences can be integrated into existing applications such as CRMs. The DNCSolution® suite of SaaS-based services provides comprehensive tools that help direct marketers comply with federal and state Do Not Contact legislation (Do Not Call, Do Not Fax, Do Not E-mail, Do Not Mail). For more information, call (800) 585-4888 or (770) 255-1020, e-mail info(at)possiblenow(dot)com or visit http://www.possiblenow.com.