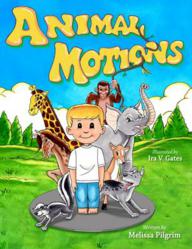 Pensacola, FL (PRWEB) June 25, 2013
Summer is here, and parents who want to keep very young minds and bodies active may get a helping hand from Melissa Pilgrim's new children's book, ANIMAL MOTIONS, from Indigo River Publishing. The book combines imagination, reading, and movement with the intention of making fitness fun—at home, in classrooms...or in libraries and summer camps during the lazy days of summer.
Inspired by the author's theatre classes with young children, ANIMAL MOTIONS is a low-impact movement routine told as a story. It follows five-year-old Eric as he stretches and moves his body at the start of his day by using his imagination to become some of his favorite animals. The reader travels with him to the jungle, the desert, the forest, the ocean—and is encouraged to mimic moving like a variety of animals along the way. Full page watercolor illustrations created by artist Ira V. Gates help to guide the child's imagination.
Pilgrim intends to do readings of her new book at libraries in order to help kick off summer reading programs. "So fun!" she says. "I've read the book in schools already and so far kids are just loving it every time I go!"
The enthusiastic author is particularly excited about the coming summer. "ANIMAL MOTIONS is the perfect 'summer read' for kids," she says. "It will help keep them reading, moving, and using their imaginations, making them ready for school again in the fall. It's also a great summer camp activity!"
Pilgrim points out that there are six free lesson plans for instructors, caregivers, and parents for both preschool and kindergarten children -- in the categories of Health & Fitness, Drama, and Biology & Geography -- available on the book's website, AnimalMotions.com. There is also a free mini-poster there for kids to print out and color.
While video games, myriad cable channels, and glowing computer screens clutter the summer 2013 landscape, Pilgrim passionately believes that ANIMAL MOTIONS is a fun alternative for kids that will enrich both mind and body.
The author, Melissa Pilgrim, has over 15 years of experience writing for projects in all mediums—film, TV, theatre, and book publishing. The illustrator, Ira V. Gates, has over 25 years of experience working as a graphic artist for both newspapers and magazines. Indigo River Publishing published this book as part of their effort to offer quality books to parents and teachers that help teach children healthy lifestyle habits while encouraging their passion for reading, being active, and using their imaginations. The book is available at Amazon.com and IndigoRiverPublishing.com. For more information visit AnimalMotions.com.