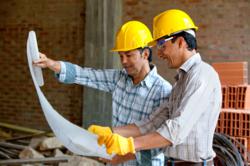 Hartford, CT (PRWEB) June 24, 2013
Quite a few general contractors across the country are giving a collective sigh of relief as the building industry seems to be recovering from the doldrums that have been hindering the industry in the past four years or so. To begin building spec houses or finally procuring a contract to build a school or office building has been received like manna. However, without the proper proof of general contractor insurance, the GC and crew will not be able to set foot on the property much less begin the job. They must secure the proper state insurance and be able to produce paperwork in a timely manner.
There are so many specialized policies for general contractor insurance the GC often needs a professional underwriter to explain what is and what is not covered under each type of policy. Certainly the broad coverage will protect the business owner who works on building as well as road construction projects from liability from accidents or property damage caused by a crew member. However, the GC may need a broader insurance policy that also covers the business for excess liability caused by subcontractors. A primary general liability policy can be written for a specific job or it can be written to include multiple contracts under the same umbrella.
Another benefit of this specialized general contractor insurance is that it can be written to include Tools and Equipment coverage. Specialized tools are very expensive. Loss from damage and theft can render a job to be completed late resulting in payment penalties plus it can drain cash flow to replace the tools. This endorsement can add Tools and Equipment Insurance wherever the items are housed, whether on a job site, in transit on stored at the general contractor's property.
USA Business Insurance strives to continuously develop meaningful bundling of general liability insurance coverages for small, medium and large sized companies in the United States. Individual states have diversified requirements and these requirements are considered in any insurance bundle.
For more information about general contractor insurance, go to http://businessinsuranceusa.com/business-insurance-general-contractors.