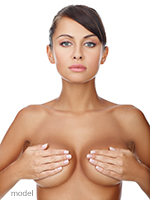 Los Angeles, CA (PRWEB) June 22, 2013
According to a June 14, 2013 NBC News report, titled "FDA Approves Mentor's New Silicone Gel Breast Implant," the FDA has approved the Mentor MemoryShape Breast Implant, making it the fifth silicone implant to receive such approval in the United States. Though the approval comes with strict stipulations for monitoring patients, the FDA found the implant to be safe for use in breast augmentation and reconstruction. They did, however, require that the manufacturer commit to extensive additional testing and continued monitoring of the original test group (go to goo.gl/DX4vp).
"The approval of the MemoryShape breast implant means women now have another choice for their breast augmentation or reconstruction," says Dr. Simon Ourian, Medical Director of Epione Beverly Hills.
According to the report, the FDA determined that women have a "reasonable" expectation of safety and that the side effects from the MemoryShape implant were similar to those experienced with other implants. These problems included hardening of the skin around the implants causing them to be encapsulated, an uneven appearance, and cracking. These complications are not unusual for any of the FDA approved silicone devices.
Further according to the NBC report, the FDA has required that Mentor carefully monitor the women in the study for an additional 10 years. Also, the company must monitor another 350 women who will receive a type of MemoryShape device for five full years. The FDA has further stipulated that Mentor study 2,500 additional women who get MemoryShape implants for ten years to watch for long-term problems. As another safeguard, Mentor must perform five control studies involving 10,750 women to watch for an association with diseases that include brain and cervical cancer.
"The testing before approval was extensive and the continued testing and monitoring required of Mentor by the FDA is strict and quite large in scope," says Dr. Ourian, "reflecting the FDA's concern for possible links between implants and rare diseases."
Dr. Ourian has been a pioneer in laser technology and non-invasive aesthetic procedures including Restylane, Juvéderm, Radiesse and Sculptra. These treatments are used for the correction or reversal of a variety of conditions such as acne, acne scars, skin discoloration, wrinkles, stretch marks, varicose veins, cellulite, and others. More information about silicone breast implants can be found on Epione's website