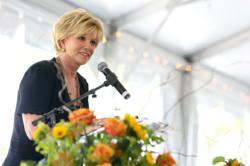 Winchester, Virginia (PRWEB) June 21, 2013
The Village at Orchard Ridge—A National Lutheran Community (TVOR) commemorated their community-wide Grand Opening Celebration on Monday, June 17 with caregiving and wellness advocate Joan Lunden and approximately 700 guests.
Lunden, the longest-running Good Morning America host, New York Times best-selling author and spokesperson for A Place for Mom, gave guests 10 tips on aging well and living a healthy lifestyle. As a mother of seven and caregiver to her 94-year-old mother, she understands how imperative it is to take charge of your health.
"… I thought of 50 as the end. But now I'm 62 and … I think I'm in one of the best decades of my life," Lunden said, regarding aging well and retirement life.
TVOR kicked off the day's festivities with a private Chapel dedication service in the morning, attended by residents, staff, local clergy and board members. That afternoon guests enjoyed welcome remarks featuring Lunden, a ribbon-cutting ceremony followed by a champagne and hors d'oeuvres reception with live jazz, along with tours of the community and its new Orchard Woods Health Center. Residents and Executive Director John Midolo also planted two apple trees—a Pound Sweet and Pristine—to enjoy for many years to come.
"This day celebrates years of planning and represents our commitment to seniors and the greater community," Midolo said. "We look forward to serving seniors in the Shenandoah Valley for many years to come."
TVOR welcomed its first residents in February 2013 and completed phase one of construction in May. Approximately 222 residents now call TVOR home.
About The Village at Orchard Ridge (TVOR)
The Village at Orchard Ridge in Winchester, Va., is a new continuing care retirement community (CCRC) on 132-acres in the Shenandoah Valley. The community opened in February 2013 and offers independent living cottage homes and apartments with access to home-based assisted services, assisted living memory care, and coming soon—skilled nursing care options and short-term rehabilitation. For more information, visit http://www.thevillageatorchardridge.org.
About National Lutheran Communities & Services (NLCS)
Based in Rockville, Md., NLCS is a not-for-profit, faith-based ministry of the Evangelical Lutheran Church in America's (ELCA) Delaware-Maryland, Metropolitan Washington, D.C. and Virginia Synods, serving people of all beliefs. NLCS provides seniors with a variety of lifestyle, residential and health care options through retirement communities in Maryland and Virginia.
Other communities sponsored by NLCS include its flagship community The Village at Rockville (formerly the National Lutheran Home) in Rockville, Md., offering independent living, assisted living, short-term rehabilitation, respite, extended nursing care, hospice, and coming soon, memory support; The Legacy at North Augusta in Staunton, Va., an independent living rental community offering assisted living services; and The Village at Crystal Spring in Annapolis, Md., a new continuing care retirement community – subject to Maryland Department of Aging approval – which will serve as the centerpiece of a multi-generational residential and mixed-use project. For more information about any of our communities, visit http://www.nationallutheran.org.
###