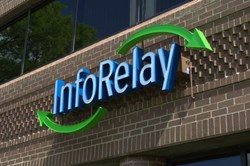 The hardware optimizations support a vastly increased customer base, with improvements such as a robust new set of interconnections.
Herndon, VA (PRWEB) June 24, 2013
InfoRelay Online Systems, Inc., a leading provider of on-demand data center and cloud hosting services, announced Friday that it plans to perform major network upgrades nationally. The upgrades will begin in July and will be a phased deployment. The first phase will span over the next six months.
InfoRelay is a data center provider that caters to small and mid-market business, healthcare firms, enterprise clients, and government entities. Headquartered in Herndon, VA, InfoRelay has data centers located in Washington DC, New York City, Chicago, Dallas, San Jose, Los Angeles, Dallas and Miami. InfoRelay was founded in 1995, and provides state of the art colocation hosting facilities, IaaS cloud, network security, enterprise backup, dedicated servers and 24x7 IT support.
InfoRelay has chosen advanced routing gear from Juniper Networks to complete this upgrade. The expected upgrades will begin in July and start in New York, where InfoRelay has 2 downtown-area colocation facilities. While exact figures were not disclosed, an InfoRelay network engineer revealed that within the next 1-2 years, the company would be investing millions of dollars in new networking gear to optimize their network footprint in all of the IT firm's major points of presence. The proposed changes to the networking hardware will improve core routers, customer-facing switches, and internal connectivity. With 15 world-class data centers across the US, InfoRelay states that their advanced network engineers will be dispatched to each market to manage the implementation and integration of the new gear. The changes to the infrastructure will increase port density to better serve customers demanding high bandwidth, and incorporate advanced routing capabilities. Additionally, the new systems will have additional capacity for growing Internet routing tables.
The hardware optimizations allow InfoRelay to expand their offerings and support a growing customer base by adding additional connectivity to new providers and peers. The proposed upgrades were driven by the company's promise to uphold its 99.999% uptime guarantee for clients, explains InfoRelay's Jonathan Maxim. Maxim explains that the new network design has no single points of failure and is designed for full redundancy. The Northern Virginia-based IT company is using the same routing equipment as many of the world's most powerful ISPs and networks. InfoRelay's aggregate network capacity is slated to grow over the coming months.
Josh Abraham, Director of Technical Operations at InfoRelay states, "One of the main reasons for these upgrades is so that we can continue to grow with our customers' needs and keep pace with the growth of the Internet. As routing tables and traffic levels grow, greater demands are placed on network hardware. We want to ensure that InfoRelay will continue to give its clients the reliable service that it has always provided." InfoRelay's upgrades effectively support IPv6 and help to ensure optimal routes for lower latency and better connectivity. Implementing the new equipment and platform will prove to be more stable and provide higher reliability for their customers.
###
About InfoRelay Online Systems, Inc.
InfoRelay Online Systems, Inc., founded in 1995, is a leading national data center and colocation provider with value-added services designed to alleviate the strain on IT budgets while providing superior customer support. The InfoRelay network is made up of a robust carrier blend, world class SSAE16II data centers, a portfolio of network and data center products, a wealth of in-house technical knowledge, and a passionate support team. The InfoRelay network is home to healthcare firms, federal and state government, legal services, non-profit, and e-commerce platforms.