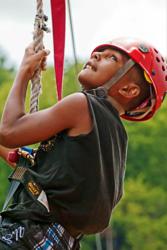 "No child is every turned away from Camp Jubilee."
Hoboken, NJ (PRWEB) June 28, 2013
Camp Jubilee located at the Jubilee Center in Hoboken, NJ begins July 1, 2013 and continues through August 23, 2013. One hundred children ages 5 through 12 are enrolled and are eager for camp to begin. Camp Jubilee staffers are just as excited and have one goal in mind - "to enable each camper the opportunity to enjoy their summer while learning and having fun."
A typical camp day begins at 8:00 am with breakfast. After breakfast, New Jersey certified teachers focus on Math and Language Arts until lunch. In the afternoon campers participate in various activities such as computer instruction, cooking classes, arts & crafts, dance, gardening, music, karate, swimming and more. Finally, each day concludes with dinner.
Friday is field trip day at Camp Jubilee. Trips are important because as Program Director Craig Mainor states, "Trips outside of New Jersey, away from campers daily surroundings, and in the great outdoors, are the experiences our campers need, because most have not been exposed to a rural environment and life outside the few blocks where they live."
Scheduled Trips: A working farm in rural New Jersey, Bowling at Hudson Lanes, Liberty State Park, FunPlex, and 4 days and 3 nights at Camp Refreshing Mount in Lancaster County, PA.
By the end of the summer, Camp Jubilee campers have experiences that will last a lifetime and a renewed enthusiasm to start the school year.
The cost to provide each camper with the Camp Jubilee summer experience, is $870 per child. The families of our campers are asked to pay far less than the actual cost. In fact the majority of our campers receive a full or partial scholarship because "No child is ever turned away from Camp Jubilee."
You can help these young people by taking a moment now to support Camp Jubilee. To donate visit:http:// http://jubileecenterhoboken.givezooks.com/events/send-a-kids-to-camp/