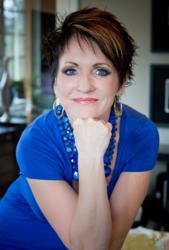 "Our industry is not known for its ability to connect with consumers in meaningful ways," says Jason Harris, executive vp, Furnitureland South.
Jamestown, N.C. (PRWEB) June 25, 2013
In the first partnership of its kind, Furnitureland South, one of the nation's "top 100" furniture retailers, teams up with YouTube's first interior design star, Rebecca Robeson, to sponsor interior design video content that reaches hundreds of thousands of consumers each month.
Sponsorship of Robeson's YouTube videos will allow Furnitureland South to reach their target consumers in ways that are new for the preeminent retailer, and also new for the furniture industry at large.
In addition to the standard sponsor tag at the start of each video, the Furnitureland South brand name will be exclusively integrated into the designer's video content through personal endorsements made on-camera by Robeson, specific product mentions, "live" video conference calls between Robeson and the store, hyperlinks to the Furnitureland website and its social networks, and quarterly promotional contests for viewers that include all expenses-paid shopping trips to the North Carolina retailer's 1 million square-foot campus.
On YouTube, where she has a monthly subscriber base that totals 200,000, Robeson has two channels of content — Robeson Design, which showcases her Design Reality series of luxury home makeovers, and Robeson Design Studios, featuring "how to" programming aimed at teenagers and other young women looking for creative design ideas. All the shows have a lively reality show-like flavor, with a light, personal tone that is natural and easy to relate to.
According to metrics available on YouTube, three-quarters of Robeson's viewers are female, with 45- to 54-year-olds accounting for the biggest audience share, and with 35- to 44-year-olds making up the second-largest group – both are prime targets for any furniture retailer. But her shows attract a wide range of ages, with potential future shoppers among them.
"Consumers want to learn from the experts, and no one else is connecting with 'her' through the most relevant and powerful medium today and that's video," says Jason Harris, an executive vice president at Furnitureland South. "Rebecca's authentic approach resonates with her viewers. She is a pioneer and a rock star."
Harris adds that this type of consumer engagement has the power to transform the way business gets done in furniture retailing. "Our industry is not known for its ability to connect with consumers in meaningful ways," he says. "This unique partnership will attract a new audience of motivated design enthusiasts to the Furnitureland South brand."
In exchange for sponsorship, San Diego-based Robeson will, in part, provide exclusive videos to the fast-growing The Design Network (http://www.thedesignnetwork.com), a new broadband television network featuring entertainment, inspiration and instruction for the home, launched by Furnitureland South executives Jason and Jeff Harris in January. Robeson, who has been contributing videos to The Design Network (TDN) since its launch, has two series on the network — "Live Your Style," insiders' tours of the designer's luxury home projects, and "Your Dream Kitchen," which shares tips on kitchen design and remodeling.
"Our newly sponsored YouTube videos will focus on all the many steps that go into a successful redesign, from deciding on major room layout and structural changes to choosing individual pieces of furniture, lighting and accessories," says Robeson. "For each project, we'll have four or five videos, each focused on specific rooms or areas of the home. Then, the icing on the cake will be a series of final design 'reveals,' where we give TDN viewers exclusive walkthrough tours of the rooms that show how everything turned out."
Each YouTube program also will feature an invitation from Robeson, along with a hyperlink, encouraging viewers to visit The Design Network for exclusive "reveals" of how projects look when completed.
Robeson aims to post two or three new videos per month to both YouTube and to The Design Network. With additional funding from the new partnership, she has hired two full-time videographers to help with production and editing.
"We'll be able to make our programs even more engaging," says Robeson, who shoots live footage of all the projects during her remodels so that viewers get a clear picture of all the changes being made and how they might relate to their own homes. Robeson's design firm will source furnishings from the retailer when the fit is right for client needs.
"With 1,500 sources, Furnitureland South offers a vast assortment of furniture and other products," says Robeson, who considers herself a genuine fan of the store. "Their prices are very competitive, and their service is unmatched. They've changed the way I work — instead of having to race around to multiple locations for products, I can find much of what I need all in one place."
Robeson adds that the retailer also will store the furnishings she buys "until the moment we're ready, which is a big plus since we're known for our complete 'Extreme Makeover'-type installations where we remove everything from the house before we start work."
Robeson began posting design videos to YouTube in 2008. As one of the first interior designers to recognize the new medium's potential, she established an early presence that has grown exponentially in the past few years. Since she appears in all her videos, Robeson also has forged a strong personal bond with viewers, who've come to trust her as a valued source for expert design advice. Her videos draw a steady stream of kudos and other comments.
"With all my videos, my goal is to encourage, educate and equip," says Robeson. "Along with my successful design practice, I now bring what has been considered to be a luxury afforded only to the rich to the everyday women who would never be able to afford my services. In the comfort of their own homes across the globe, I'm able to share ideas about how to make their spaces special."
Robeson describes her approach to design as "very eclectic. I'm not drawn to any one single style or period. My gift is listening and figuring out how clients can best express their own tastes and design preferences."
About Furnitureland South
With more than 1 million square feet of home furnishings and accessories, privately held, Jamestown, N.C.-based Furnitureland South provides acres of exquisitely designed vignettes, expert designers and white-glove national delivery service. The store is a multi-day destination for discerning consumers from every state and many foreign countries.
About The Design Network
Offering inspiring, informative and entertaining videos online, The Design Network (TDN) is a new multi-screen network dedicated to everything "home," including interior design, organization, home decorating, architecture, gardening and landscape. The company was founded by Jason Harris, executive VP at Furnitureland South.
About Robeson Interior Design
Based in San Diego, Calif., Robeson Interior Design is one of the nation's top interior designers, serving clients throughout Southern California and other major metro areas nationwide. Owner Rebecca Robeson also is one of the most popular sources for design information on the Web, with two frequently viewed channels on YouTube and an expanding presence on The Design Network.