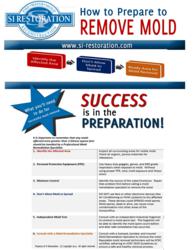 For property owners,the costs of mold removal could increase exponentially if the situation is neglected.
Mount Laurel, NJ (PRWEB) June 25, 2013
Amidst the constant debate on how harmful toxic mold can be to a person's health, one variable always remains unchanged: toxic mold is dangerous.
SI Restoration, a mold remediation expert that began servicing the community in 1989, published an updated version of their guide now entitled How to Prepare to Remove Mold on June 24, 2013. This comprehensive guide is designed to ready any property owner who has uncovered mold infestation on their premises.
For property owners,the costs of mold removal could increase exponentially if the situation is neglected.
Starting with the most profound fact in the guide, mold exposure can cause severe allergic reactions and health issues, according to experts at SI Restoration. During the course of preparing the affected area for safe mold remediation, it is highly advised to never come into direct contact with the toxic fungus. Instead, this tool outlines ways to safely prepare for the arrival of a mold remediation specialist.
Identify the Affected Area
Firstly, it is important to find all of the areas that are affected by mold (or at least have a decent idea on where the colony is concentrated.) Mold remediation service providers and industrial hygienists are able to arrange a mold spore test to pinpoint all affected areas. Though, having a good idea on where the main colony exists will always help the project progress in a safe manner.
Personal Protective Equipment (PPE)
Since reactions to mold exposure can be so severe, it is important to understand that the use of Personal Protective Equipment (PPE) is extremely vital when near a mold colony. The use of the following types of PPE is highly recommended when coming within just a few feet of the toxic fungus:

Goggles
Gloves
N95 Grade (or better) Respirators
Disposable Boot Covers
Moisture Control
Finding the root of the mold problem may not be as easy as it sounds. However, in many cases, mold colonies grow due to a lingering leak or flooding issue that property owners are well aware of. It is highly recommended to fix these moisture issues first before mold remediation takes place. Without fixing the moisture problem immediately by hiring a water damage service, the property owner risks further infestation in the future.
Don't Allow Mold to Spread
Many home and business owners believe they are doing a service to their property by running fans, heating devices, and other electronic systems to dry the affected area. Mold spores, whether dead or alive, can spread to other areas of the property causing additional colonies to grow. This cross contamination process is accelerated when fans, air conditioning units, HVAC systems, and other devices get involved.
Independent Mold Testing and Mold Remediation Specialists
Having a third-party Industrial Hygienist (IH) take a mold spore test both before and after the removal project is highly recommended. In fact, most reputable mold remediation contractors will only work on a project when a third party hygienist is involved. By using an independent IH, the property owner will lessen the likelihood of test results being skewed, causing a conflict of interest that only benefits the contractor. IH's can also provide answers to many frequently asked questions about mold.