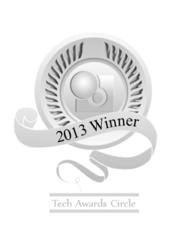 Beaverton, OR (PRWEB) June 26, 2013
PacificEast has been awarded Silver for its Interactive FlexiQuery software in the 2013 Tech Awards Circle in the Midrange Software category. FlexiQuery was selected for this honor by a jury comprised of independent circle of publication reviewers and journalists.
Tech Awards Circle celebrates the products, vendors and individuals making a difference in the industry today. By providing customers instant access to deep consumer data, PacificEast's FlexiQuery service arms businesses against online order fraud and helps reduce charge-backs. Designed as an interactive tool FlexiQuery provides instant access to deep consumer data that is restricted to this purpose. For example, FlexiQuery is used to verify that shipping addresses really exist, verify bank card and IP information, cross-check name, addresses, IP geo-location, telephone and email information to look for red flags that might indicate a high-risk order.
"PacificEast's FlexiQuery software was rated among the 'best of the best' for true industry excellence and innovation to be a winner of the Tech Awards Circle finalists," said Kevin Anderson, awards program coordinator. "Our judges were impressed with the level of submissions from all the vendors entering this year's competition, so to be named a winner of this prestigious award is a testament to the quality and innovation shown by the winners in the high tech community."
After the announcement on Tuesday, Garth Froese, PacificEast CEO, said, "We are pleased to be recognized by Tech Awards Circle for the work we do and for the difference FlexiQuery is making for businesses across a variety of industries. Companies today face growing risks from fraudulent orders. While there are a host of products on the market, many of these can have high up-front costs, so they are out of reach for many businesses. FlexiQuery's pay-as-you-go model provides businesses of all sizes affordable access to fraud prevention services and a manual order review console that are so necessary for any company selling over the internet."
About Tech Awards Circle
Tech Awards Circle was established this year to truly honor the 'best of the best' in technology. Tech Awards Circle is not affiliated with an analyst firm or a media company, both of which are directly supported by tech vendors through consulting relationships or advertising sales, so it is uniquely unbiased and immune to conflicts of interest. Entries are judged by an independent circle of journalists, including product reviewers, each with at least a decade of experience covering technology from consumer electronics to enterprise-class computing. To prevent these judges from being unduly influenced by vendors, they have agreed to remain anonymous. For more information or to be added to the mailing list, please visit http://www.techawardscircle.com.
About PacificEast Research
PacificEast Research Inc. provides direct, authoritative information services in real-time over the internet to businesses primarily in the US and Canada. Since 1982 PacificEast has empowered its business clients with contact information and a broad line of identity validation and telephone identity products and services. PacificEast Research Inc. is headquartered in Beaverton, Oregon. For more information, contact PacificEast at 1-800-665-8400 or http://www.pacificeast.com.