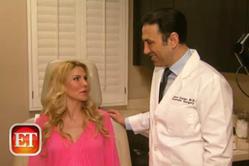 Los Angeles, CA (PRWEB) June 23, 2013
In the Shine/Beauty section of the July/August 2013 issue of Ladies' Home Journal, the magazine asked a group of dermatologists for the home care advice they'd give to women over the age of forty trying to maintain younger looking skin. (go to goo.gl/8GGDn)
"As noted in the article," says Dr. Simon Ourian, Medical Director of Epione Beverly Hills, "even if you exercise, eat well, and apply sunscreen daily, your complexion will suffer as you age."
According to the article, a number of physiological changes occur as one ages. The body's production of elastin and collagen slows down. The skin's outermost barrier, the one responsible for holding in moisture, becomes weaker and less effective. Finally, the body's natural exfoliating enzymes stop working when the skin becomes dehydrated leading to a buildup of dead cells that make the skin look dull and rough.
The dermatologists quoted in the article offer three pieces of advice. First, it's only necessary to wash one's face once per day. A splash of water in the morning is sufficient and the evening wash should be done with an exfoliating cleanser. Second, use a day cream that combines a moisturizer, sunscreen, and wrinkle-fighting peptides. Finally, use a night cream that contains retinol as it stimulates collagen growth, evens out skin tone, and clears pores.
"The article provides the basis for a good at-home regimen," says Dr. Ourian. "I would advise women to meet with an experienced cosmetic dermatologist to map out a customized treatment plan that may or not include injectables, laser skin resurfacing, and other anti-aging procedures."
Dr. Ourian has been a pioneer in laser technology and non-invasive aesthetic procedures including Restylane, Juvéderm, Radiesse and Sculptra. These treatments are used for the correction or reversal of a variety of conditions such as acne, acne scars, skin discoloration, wrinkles, stretch marks, varicose veins, cellulite, and others. More information about skin care can be found on Epione's website.