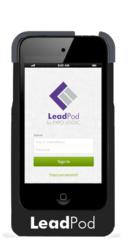 Using our innovative wireless technology, the Expo Logic team is now able to provide their customers with a lead retrieval app that is best-in-class in their industry,"

-Harry Martin, Verizon Wireless
(PRWEB) June 24, 2013
Expo Logic, a trade show services company specializing in event registration and lead retrieval, recently released LeadPod, the company's first lead retrieval app for mobile devices. Now, Expo Logic has signed an agreement with Verizon Wireless, allowing LeadPod to work without relying on a Wi-Fi connection, utilizing the power of the Verizon Wireless data network.
The Expo Logic and Verizon Wireless agreement is significant, as most lead retrieval apps on the market don't leverage the complementary solution of Wi-Fi connectivity and a best-in-class 4G LTE wireless communications network. Wi-Fi at conferences and trades shows can be intermittent, slow and expensive. LeadPod is a more desirable option because it offers customers the ability to utilize Wi-Fi, but more importantly, they also have the option to access Verizon's wireless data network, enhancing their ability to gain connectivity to carry out business objectives.
Dave Bradfield, Expo Logic's Vice President said, "The biggest complaint we heard from organizations about lead retrieval apps was their reliance on Wi-Fi, which at times in convention centers and hotels is unavailable or overused. Our exclusive agreement with Verizon allows us to offer customers another option complementary to Wi-Fi. And, while in-building coverage can at times be a challenge for any solution, our agreement with Verizon increases our ability to offer an option to our customers that can serve their needs as it relates to lead retrieval in a mobile environment."
"We're always focused on providing new ways for our customers to make their business and services better and gain that all-important competitive advantage. Using our innovative wireless technology, the Expo Logic team is now able to provide their customers with a lead retrieval app that is best-in-class in their industry," said Harry Martin, Regional Director of Advanced Wireless Data Solutions for Verizon Wireless. "We look forward to continuing our partnership with Expo Logic and developing even more innovative solutions."
In addition to exclusive access to the Verizon Wireless network, some other features of LeadPod include:
· All hardware is provided by Expo Logic
· Lead data is shown directly on the device when captured
· Leads are stored in real-time
· Provides real-time registration data
· Notes and action codes can be applied to leads
· Leads are securely stored on the device and in the cloud for real-time back office access
Since 1979, Expo Logic has offered the fastest, most flexible and comprehensive registration and lead management services in the event and trade show industry. Learn more at http://www.expologic.com.