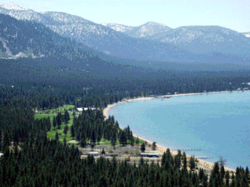 VirtualTahoe.com has named some of the hottest spots to listen to live music in Lake Tahoe this summer 2013.
Lake Tahoe, California (PRWEB) June 22, 2013
Summer has officially arrived in Lake Tahoe, and the lake resort is booming with live music all summer long. From the country music concerts at Harvey's and reggae festival at MontBleu to the free concerts at Commons Beach and Kings Beach and classical performances at Lake Tahoe SummerFest, there are plenty of concerts for every music lover to appreciate. VirtualTahoe.com has named some of the hottest spots to listen to live music in Lake Tahoe this summer 2013.
Harvey's Lake Tahoe Summer Concert Series: Harvey's Lake Tahoe is hosting some of the hottest musicians this summer at the venue's outdoor arena. Country music performers Tim McGraw, Brad Paisley, Chris Young, Lee Brice, and Rascal Flatts will play their hits, while other top performers such as Fun, Phish, and the Dave Matthews Band will blow audiences away with their talent throughout the summer as well.
Concerts at Commons Beach: Every Sunday from June 23, 2013 through September 8, 2013, local, regional, and national musical acts will take the stage at Commons Beach. Joy & Madness, Joe Craven Trio, and The California Honeydrops are just a few of the performers that will rock the beach crowd. Pack a picnic or purchase some tasty grub from the local vendors for a relaxing way to spend a Sunday funday. Concerts run from 4:00pm until 7:00pm, with the exception of the first and last summer concert, which start at 3:00pm.
MontBleu Outdoor Concerts: Take a stroll down memory lane with the B-52s or dance to the beats at the second annual Lake Tahoe Reggae Festival in the MontBleu outdoor venue. Slightly Stoopid, the Village People, and Andre Nickatina are just a few more of the musical variety acts performing at the venue this summer.
Music on the Beach: After a long week working at the office or a fun-filled week of boating on the lake, unwind on Friday evening at the Kings Beach Recreation Area for some quality Lake Tahoe entertainment. From July 5 through August 30, visitors and locals can listen to live music from 6:00pm until 8:30pm every Friday night. The Music on the Beach line-up includes performers such as the Mama's Cookin', The Northstar Sessions, and Terraplane, among others.
Lake Tahoe SummerFest: For those who appreciate fine music, mosey over to the Sierra Nevada College for the Lake Tahoe SummerFest. From August 2 through August 18, 2013, hear some of the world's best soloists and orchestral musicians perform. Musicians selected from North America's top orchestras including the Metropolitan Opera Orchestra and the Los Angeles Philharmonic will serenade the audience.
About VirtualTahoe.com:
VirtualTahoe.com, Lake Tahoe's online guide, provides quality information on all things Tahoe. Use VirtualTahoe.com to find information on everything Lake Tahoe from vacation lodging and casinos to ski resorts and boat rentals. Chloe Mulliner, editor of VirtualTahoe.com, helps travelers find the best Tahoe hotels, restaurants, things to do, and more.