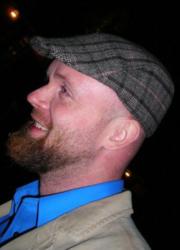 Harrigate, Tennessee (PRWEB) June 21, 2013
Charles Dodd White of Candler, N.C., is the winner of the 2013 Jean Ritchie Fellowship in Appalachian Writing, awarded by Lincoln Memorial University (LMU) in Harrogate, Tenn. The prize is $1,500 and is awarded to an Appalachian writer who shows overwhelming promise in the continuation of great writing in the region.
White is the author of the novel, Lambs of Men (2010); the story collection, Sinners of Sanction County (2011); and co-editor of the Appalachian fiction anthology, Degrees of Elevation (2010). His next novel, A Shelter of Others, will be published by Fiddleblack Press in 2014. His stories and essays have appeared or are forthcoming in Red Holler: Contemporary Appalachian Literature, Appalachian Heritage, Fugue, The Louisville Review, North Carolina Literary Review and others. In 2011 he was awarded a fellowship in prose by the North Carolina Arts Council. His writing is often described as darkly poetic, belonging to the tradition of writers like Cormac McCarthy, Donald Ray Pollock and Larry Brown. White is at work on a new novel, Parable of Noon, as well as several narrative essays about growing up in the South.
White is an English instructor at South College in Asheville, North Carolina. He is also a PhD candidate in English at Texas A&M-Commerce, where he will graduate in 2014. He holds an MFA in creative writing from Spalding University. He lives with his wife, April, and sons, Ethan and Iain, in a log cabin in the mountains of western North Carolina. He is an avid outdoorsman and student of Judo.
The fellowship is named in honor of Jean Ritchie, 89, the award-winning musician and writer who has been cited as a "national treasure" by the New York Times. Besides being an internationally known singer, songwriter, activist and musicologist, Ritchie is also the author of several books. Ritchie's best known work is Singing Family of the Cumberlands. The book has never been out of print since its 1955 publication and is known as one of the major classics in Appalachian literature.
This is the sixth year the fellowship has been awarded through LMU's annual Mountain Heritage Literary Festival, which honors writers of the region like James Still and Jesse Stuart, both alums of LMU. The fellowship is funded by an anonymous donor, and the judging process is completely blind, with a panel of judges within the region choosing several finalists that are then sent out of state to be judged by another panel of nationally-known authors.
The award was announced at this year's Mountain Heritage Literary Festival on June 15, during the event's keynote banquet. North Carolina Poet Laureate Joseph Bathanti delivered the keynote address. For more information, go online at http://www.lmunet.edu/mhlf.