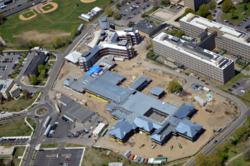 Bohemia, NY (PRWEB) June 23, 2013
The campus will have state-of-the-art facilities with LEED Silver certification, more functional inter-connectivity, and a more compact healthcare campus for improved efficiencies – all with the goal of better providing mental health services to the public. The new campus is located at 1508 Waters Place, between Waters Place and the Hutchinson River Parkway. The project is expected to be completed by October, 2014.
"We are fortunate to have the opportunity to continue our long and successful collaboration with the both Jacobs Architecture and DASNY." reported Joseph Kokolakis, President of J. Kokolakis Contracting, Inc. "We are also working with Jacobs on a new $41 million Training Center Complex at Ft. Carson, Colorado and have developed a productive working relationship where quality, safety and customer service are job one."
Mr. Kokolakis also takes great pride in JKC's support of the Bronx community and local disadvantaged businesses. "Community participation will be strongly encouraged," said Kokolakis. "The goal of the project team is to maximize community involvement and benefit, be it from comments and suggestions or from new jobs and skills training," he said. "We are privileged to be working with local businesses on this project and have awarded over $18 million of work to local Minority Owned Business Enterprises and $7.5 million to Woman Owned Business Enterprises, thus far. In addition, we have committed to hiring locally and are on track to utilizing Bronx residents for over 25% of all on-site labor. In addition to entirely new site characteristics and infrastructure, the project consists of the following major building components:

A new 186,000-sf, Central Services Building and 86 bed Children's Center, that includes medical treatment areas, administrative offices, classrooms, a gymnasium, a 114 seat auditorium, swimming pool, dining facilities and laundry facilities.
A new Central Utility Plan designed to provide heating and cooling for the entire $400 million campus facility.
Healthcare construction is nothing new to JKC. Over its recent history the firm has renovated or constructed new medical facilities throughout New York, Connecticut and Florida, totaling over one million square feet in space. Beyond healthcare, the firm also focuses on other complex facility types including air traffic control towers, judicial facilities, secure Defense Department housing and training centers, as well as other challenging environments where planning and experience are valued.
Since the firm's inception in 1972, J. Kokolakis Contracting, Inc. has been committed to exceeding their clients' expectations in quality, integrity and accountability. Having successfully completed high profile projects for such notable clients as the United States Military Academy at West Point, the Department of Veteran's Affairs, the State University System of New York, and the Federal Aviation Authority, it brings a collaborative approach to success. Through an unwavering commitment to these core company values, the company has built a solid reputation for providing excellent client service and producing high caliber projects within budget, and on schedule. The company has offices in New York and Florida. For more information, please visit http://www.jkokolakis.com, call 631-744-6147 or 727-942-2211.