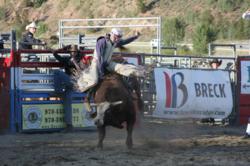 We are also incorporating some fun into our booth, where you can take the family photos. We've done cutouts so people can see themselves riding a bull!
Breckenridge, Colorado (PRWEB) June 22, 2013
The excitement is in the air again as opening weekend of Breckenridge's second annual PRCA ProRodeo series starts up again at the specially constructed arena in the Airport Road parking lot on the north side of town. The rodeo, fully sanctioned by the sport's governing body, the Professional Rodeo Cowboys Association (PRCA), will take place in Breckenridge every Saturday and Sunday through August 31, 2013.
Each nightly rodeo will begin at 5:00 p.m. MST, will last approximately two hours, and the professional events will include Saddle Bronc, Bareback Riding, Bull Riding, Team Roping, Steer Wrestling, Tie-Down Roping, Barrel Racing, and one to two clown acts. There are also kids' events open to public participation such as Mutton Busting and Calf Scrambles so plan to arrive at least one hour earlier to see the kids fight to stay on a rampaging sheep.
"It's the funniest thing you'll ever see and that's why we are sponsoring this event (Mutton Busting) this year," said Shannon Sinnard of Ski Country Resorts, Breckenridge, Colorado. "We'll be handing out hats that feature our slogan this rodeo season. 'I Bullied The Wooly'," continued Sinnard. Sinnard went on to say, "We are also incorporating some fun into our booth, where you can take the family photos. We've done cutouts so people can see themselves riding a bull!"
Venue doors will open at 3:30 p.m. each day, with a family-friendly festival leading up to the start of the including a BBQ cowboy dinner and activities such as face painting, live country music, mechanical bull riding, kids calf roping, petting/viewing of various farm animals and more. At 4:00 p.m. families can also enjoy a behind the chutes tour provided by a PRCA ProRodeo Clown.
Tiana Shelton, of Ski Country Resorts also stated, "We have special pricing just for the rodeo weekends that is as low as $109 per night. All the rodeo attendees need to tell us is that they want rodeo accommodations and we fix them up. In fact, our slogan for the lodging this year is 'Feels Like Home,'" she continued.
Tickets are $20 for adults, $15 for children ages 7-15, and free for kids 6 and under. Breck locals will be able to receive a $5 discount when they present a Breckenridge photo ID. VIP tickets are also available for $40 each adult, $30 for children age 7-15, and children 6 and under are free. VIP access includes exclusive private seating, private restroom facilities and a wait service. In addition, Breck Rodeo season tickets are also on sale, priced at $80 for adults and $60 for children, and include access for all ten performances this summer (a 60% savings).
All tickets can be purchased at the event venue or in person at Breckenridge Stables, the Breckenridge Welcome Center, Breckenridge Resort Chamber, and at the Gondola Ticket Office of the Breckenridge Ski Resort (open daily until 2 p.m.) or by calling (970) 389-1701.
For lodging, call Ski Country Resorts at 800-633-8388 or book online at http://www.skicountry.com.
The Rodeo performances will take place rain or shine. No pets or coolers will be allowed in the event venue. No refunds.
For full details on everything regarding the Breck Rodeo, please visit the official website at breckenridgeprcaprorodeo.com.
Events during Rodeo:

Saddle Bronc - a rider gets on a bucking horse with a specialized saddle and attempts to stay mounted for 8 sec while only holding a lead rope
Bareback Riding - a rider gets on a bucking horse with only a handle and attempts to stay on for 8 sec
Bull Riding - a rider gets on a large bull and attempts to stay mounted while the animal tries to buck off the cowboy in 8 sec
Team Roping - 2 cowboys on horseback rope a steer together, one ropes the horns, the other ropes the back feet, quickest time wins
Steer Wrestling - a horse-mounted rider chases a steer, drops from the horse to the steer, and then wrestles the steer to the ground
Tie-Down Roping - a cowboy from horseback ropes a calf then dismounts the horse to restrain the calf as fast as possible
Barrel Racing - a horse and rider attempt to complete a clover-leaf pattern around preset barrels in the fastest time
To participate in the events mentioned above, contestants must have a PRCA card.

Mutton Busting - A child holds onto the back of a sheep for as long as they can while the sheep is running in an attempt to throw the child off. Free for kids 70 lbs or less. Only 10 entries/night. Sign up will be located at the "Official Merchandise Booth" under the white tent
Calf Scramble - Calves with prizes tied to the tail are let loose in arena, first kid to get prize wins
To participate in these events, children must sign up the day of the rodeo at the rodeo grounds.
Miscellaneous:
1. No Pets allowed
2. Credit cards accepted
3. Nights do get chilly, jacket recommended
4. Rain or Shine
Questions - please call 970-389-1701.