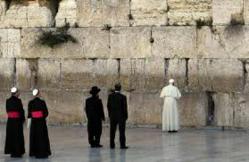 new hope to a people who want nothing more than a chance to improve their lives and stay in the land of their heritage
(PRWEB) June 26, 2013
The President of the Franciscan Foundation for the Holy Land (FFHL) says recent praise for Pope Benedict XVI "by all the people of the region is a good start to building a working relationship among Jews, Muslims and Christians."
Commenting on a news story by the National Catholic Register, Fr. Peter Vasko said he was pleased by comments from leaders of all faiths about the retired pontiff.
"Everybody still remembers the Holy Father's visit to the Holy Land in 2009 and his trip to Cyprus in 2010," he said, "and they mark it as the beginning of improved interfaith relations in the region." He pointed to Benedict's condemnation of anti-Semitism and his support for a limited Palestinian state.
Fr. Vasko commented on Benedict's presiding over a Middle East Synod in 2010 held in Rome. "The meeting brought the bishops from both Western and Eastern churches together for the first time," he said. He also quoted Ashekenazi Chief Rabbi of Israel Yona Metzger as saying Pope Benedict's reign brought "the best relations ever between the Church and the Chief Rabbinate." Metzger added that the pope "deserves a lot of credit for advancing interreligious links the world over among Judaism, Christianity and Islam."
Fr. Vasko also quoted Israeli President Shimon Peres as saying that under Pope Benedict's leadership the Vatican "has been a clear voice against racism and anti-Semitism, and a clear voice for peace."
Fr. Vasko was especially grateful for the Pope's visit to Bethlehem in 2009 where Palestinian Christians live under severe travel, education and work restrictions. "And extending support for a limited Palestinian state at the United Nations last November, the Pope gave new hope to a people who want nothing more than a chance to improve their lives and stay in the land of their heritage."