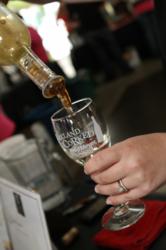 "The Uncorked wine tasting allows guests to taste and discover the nuances of different varietals, the process of aging and how to distinguish wine aromas, all while relaxing lakeside with festival's million dollar view."
Kirkland, WA (PRWEB) June 21, 2013
The 7th annual Kirkland Uncorked, Wine on the Waterfront, is featuring 20 wineries that will be pouring over 50 wines. The event, a benefit for the Hope Heart Institute, takes place July 19-20-21, 2013 at Marina Park in Kirkland, WA.
"Kirkland Uncorked gives wine and food experts and amateurs alike from across the Northwest first hand access to an A-list line-up of Washington wineries. Over 50 wines paired with celebrity chef cooking demos, Eastside burger competition and the grand tasting event, our Grill Off Competition make for an unforgettable festival experience," says Kelleen Storino, the events wine recruiter aficionado and Industry Professional. "The Uncorked wine tasting allows guests to taste and discover the nuances of different varietals, the process of aging and how to distinguish wine aromas, all while relaxing lakeside with festival's million dollar view."
Known as one of the world's top wine regions, Washington has more than 30,000 acres of vineyards and over 650 wineries. From the Eastside's own Kaella Winery to Seattle's OS Winery to Walla Walla's Zerba Cellars, here is the opportunity to sample over 50 different wines from across the state without having to book an expensive wine tour. A crisp Pinot Gris or light Rosé are a perfect match for a summer day by the beach and a taste of a full-bodied Cabernet Franc or Tempranillo is the perfect match for a Kirkland sunset.
Once guests find a wine that indulges all of their senses, they can savor their discovery by taking a bottle home. At the Kirkland Uncorked Wine Shop, presented by The Grape Choice, bottles from festival wineries are available for purchase at special event prices. For a full list of Washington wineries pouring at the event and more details on the Wine Shop, visit http://www.kirklanduncorked.com/wine.
Expand upon your tasting experience by pairing the region's vino with the most enticing and delectable bite-sized feasts that Kirkland and Northwest restaurants have to offer.
Need a break from the grape? Visit the Kirkland Uncorked Beer Garden, serving Pyramid beer, or enjoy a refreshing summer cocktail.
Throughout the weekend gourmands, (newbie's to aficionados) can select from a number of ticket packages starting at $25, making this a wine festival accessible to all those interested in celebrating the grape. For more information or to purchase tickets, visit http://www.kirklanduncorked.com/tickets.html.
Kirkland Uncorked tasting garden is a 21 and over event.
Kirkland Uncorked Gets Social:
Facebook | Twitter | Instagram
Media Contact: Phil Megenhardt - 206-295-1891
press(at)boldhatproductions(dot)com