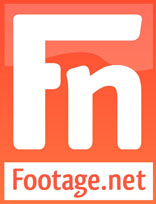 We're always very happy when one of our partners does a major content refresh on our site.
New York, NY (PRWEB) June 24, 2013
FootageBank HD, a leading global supplier of contemporary HD stock footage, has added a raft of new clips to Footage.net's stock footage search and screening platform. FootageBank's content joins a rapidly growing assortment of world-class clips on the Footage.net site, now one of the world's largest and most diverse stock footage resources.
Founded by Paula Lumbard in 2002, LA-based FootageBank HD has become a go-to source for professionally shot contemporary stock footage and location shots. Working primarily with scripted television shows, FootageBank content appears regularly as part of primetime television programming, feature films and, more recently, original internet TV shows.
"We're always very happy when one of our partners does a major content refresh on our site," said David Seevers, Footage.net Chief Marketing Officer. "FootageBank's collection runs the gamut, from breathtaking aerials to extreme sports to stunning nature footage. It's all professionally shot and captured at the highest resolutions. And like all top stock houses, FootageBank pays close attention to their customers' needs. The result is a tightly curated collection replenished with a steady stream of new material."
The FootageBank collection is constantly evolving. When Lumbard and her team sense demand rising in a certain footage category, they move quickly to produce or acquire the perfect shots, usually by partnering with one of their network of top-flight cinematographers.
Lately, they've been focused on expanding their coverage of fully released location shots, including private homes, businesses, hospitals and other localities, which they shoot under all sorts of seasonal conditions, both day and night.
Their strategy has paid off, with FootageBank location shots appearing on a wide range of primetime television shows. For example, the house where Emily Deschanel's character lives on the show Bones was provided by FootageBank, as was the brownstone on Two Broke Girls where Kat and Beth live.
FootageBank has also amassed a comprehensive collection of footage geared towards use as playback on televisions within scenes. Keeping it fresh, FootageBank recently added another 1000 clips to this growing part of their collection, which includes football and basketball games, newscasters, cartoons, simulated programming, telenovelas, stand-up comedy, and infomercials.
FootageBank's DP Cary Hubbs continues to travel through Europe and Eastern Europe shooting custom stock to service FootageBank's television and feature clients. This past season, HD clips of locations in Vienna and the French Riviera were captured for the shows Grimm and Gossip Girl. Cary has also covered Paris, Prague, Berlin, London, Madrid, Marseille, the French and Italian Rivieras, Istanbul, and dozens of other cities and rural communities across Europe and the eastern part of the continent.
Footage.net has grown steadily over the last several years to become one of the world's largest and most comprehensive online stock footage databases. FootageBank's new clips will be available for screening through Footage.net alongside motion content from some of the world's most prestigious footage companies.
About Footage.net
Footage.net is the world's premier online resource for stock footage research. Since 1994, Footage.net has focused on meeting the needs of both footage users and footage providers. Today, Footage.net remains committed to helping users find the best footage as quickly and easily as possible; generating new leads and licensing opportunities for our member archives; and strengthening the footage licensing industry as a whole. Our dedicated search engine makes it easy for creative professionals to search 40 world-class footage collections simultaneously and view over two and half million clips, many of which are available for download. Our Global Search partners include some of the best-known companies in the stock footage industry, including Getty Images, FootageBank, Framepool, Historic Films and NBC News Archives, as well as some exciting new specialist collections, such as Skyworks, Critical Past and OceanFootage. Footage.net is also home to the Zap Email, used every day by creative professionals to send footage requests instantly to over 50 top footage providers. Whether they're up against a deadline or searching for an obscure clip, creative professionals rely on Zap Emails every day to initiate their footage research projects, providing our Zap subscribers with a steady stream of new leads.
About FootageBank HD
Since opening its doors in 2002, FootageBank HD has become the premier supplier of large format and HD images worldwide to television, theatrical, mobile, independent, and corporate media buyers. The FootageBank HD library represents more than 120 award winning HD, IMAX, and RED media producers, cinematographers and production companies from around the world. Customers include Warner Brothers Television, Sony Pictures, HBO, Microsoft, Verizon, and The Walt Disney Company.