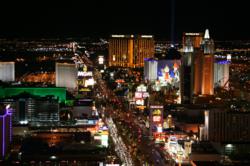 "For us, customer comfort comes first. All our services are focused at making travel easy, comfortable and affordable."
Las Vegas, NV (PRWEB) June 27, 2013
Greenbee Parking, the leading airport parking solution providers, has just announced upgrades in their web presence. The latest upgrades promise a number of new deals and discounts in Las Vegas airport long term parking options. For travelers using the Las Vegas (LAS) airport regularly parking has been a major issue in recent times. Space is at a premium in this busy airport and along with the steep price, getting a secure spot has been next to impossible, especially for long term parking. The gambling mecca of the world, the glittering lights of casinos and the exotic shows lure in millions of tourists into the city every year. Airport reviews show that among all other features lack of adequate parking has been a constant issue with travelers here. With new offers from Greenbee Parking there is finally a solution to these woes and at amazingly affordable costs.
"For us, customer comfort comes first," said Christine Cooper – Marketing Coordinator, Greenbee Parking. "All our services are focused at making travel easy, comfortable and affordable. From the choicest airport parking spots to the cozy and secure hotel parking, travelers can choose from multiple options with us. With new features like discount Las Vegas airport long term parking options our customers can forget parking worries and simply focus on travel."
McCarran International Airport (Las Vegas) Parking Information
When in Las Vegas, do what everyone comes here to do – roll a bit of dice. The giant slot machines in the airport itself immediately give one a feel of the fun and excitement waiting right outside. The airport is conveniently located close to the Las Vegas strip which makes it handy for travelers to book and park rentals from here whenever they want. Las Vegas International Airport is considered the 6th busiest airport in the country and 19th busiest in the world. From taxis, rentals, shuttles, to public buses there are a lot of travel options to and from the airport. Combined with these there is also heavy traffic of privately owned vehicles all of which need short or long term parking space here. Greenbee Parking's latest Las Vegas airport long term parking options promises sea change in the parking scenario. One only has to go online and book a favored spot and get a secure location for vehicles at much cheaper rates.
The Greenbee Airport Parking Solution
Greenbeeparking.com is the connection between consumers and parking vacancies in close proximity to major airports and seaports. The parking spaces are very affordable because the company has negotiated discounted rates with major hotel chains for the parking spaces that are not currently occupied. Here's how it works.
Greenbee Parking puts the available inventory of parking spaces on their website to be reserved by business and leisure travelers looking for cheap airport parking. This alternative method for finding parking equates to significant savings for the traveler. These savings are sometimes as much as 75% less than parking at the airport or seaport.
About Greenbee Parking
Greenbee Parking is the nation's most innovative long term parking company, with a new way of making long term parking affordable. The company is rapidly adding new airports to its network.