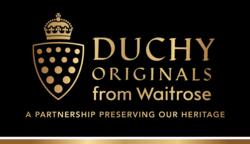 Hauppauge, New York (PRWEB) June 24, 2013
Gathering family and friends around the table is a pastime that knows no singular season or generation, and increasingly consumers want to know that the food they serve is made sustainably using all-natural ingredients. At the upcoming 59th annual Specialty Food Association Summer Fancy Food Show, Duchy Originals from Waitrose will be featuring their all-natural shortbread and biscuits line that's ideal for versatile, gourmet year-round entertaining. Found at booth #2736, Duchy is exhibiting with Walkers Shortbread, the much loved and family-owned Scottish bakery that also makes Duchy Originals shortbread and biscuits.
"Each Duchy product follows the Good Food Charter in that every product 'Is Good,' 'Does Good,' and 'Tastes Good'," explained President of Walkers Shortbread, Inc. Steve Dawson. "More and more consumers are looking for elegant and traditional entertaining options that are also kind to the environment, and the Duchy line offers just that."
Founded by HRH Prince Charles the Prince of Wales, the Duchy Originals product line comprises four distinctive varieties of rich shortbreads and savory biscuits that are ideal for both everyday entertaining and special events. These include the Highland All Butter Shortbread, Lemon Shortbread, Stem Ginger Shortbread and Original Oaten Biscuits.
A versatile addition to a number of recipes, the shortbread can be used to make a crust for pies, tarts and cheesecake, as well as crumbled over ice cream or pudding. The Oaten Biscuits pair nicely with everything from cheeses and meats to savory and sweet jams and spreads for a year-round entertaining staple. Both the shortbread and biscuits complement a number of seasonal beverages like hot and iced teas, wine and cocktails.
Staying true to the Duchy Originals Good Food Charter that every product "Is Good", "Does Good" and "Tastes Good", all Duchy shortbread and biscuits are made with the finest natural ingredients using sound animal husbandry and traditional crop rotation. All ingredients include no genetically modified organisms (GMOs), are OU Kosher and suitable for vegetarians, and no antibiotics or bovine growth hormones are used to produce the butter used in Duchy recipes.
To learn more about Duchy Originals and taste their distinctive shortbread and biscuits, please visit booth #2736 at the Specialty Food Association Summer Fancy Food Show. Visit Duchy Originals online at http://www.walkersus.com/duchy.
###
About Duchy Originals
Duchy Originals was founded by HRH The Prince of Wales in 1992 to promote organic food and farming and to help protect and sustain the countryside and wildlife. Today, in partnership with Waitrose, it is one of the U.K.'s leading organic and sustainable food companies, producing a range of over 250 products from biscuits to preserves and gifts to garden seeds. A donation from the sale of Duchy Originals products is given to The Prince of Wales's Charitable Foundation. More than $2 million is raised annually in this way for distribution to charitable causes all over the world. Duchy Originals from Waitrose shortbreads and cookies are baked by the world famous Walkers Shortbread in the Scottish Highlands.