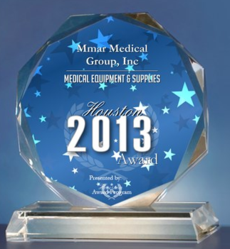 Houston, Texas (PRWEB) June 24, 2013
MMAR Medical Group, Inc. has been awarded as an outstanding business in the Medical Equipment & Supplies category of the 2013 Houston Award Program. The winner of this award is recognized as a leader in their industry for their marketing success both in business and community involvement. MMAR Medical joins an exclusive group of other successful, community-involved small businesses from the Houston area.
MMAR has grown since 1990 to become one of the national leaders in the wholesale distribution of medical equipment and supplies. They specialize in orthopedic braces, contracture management, diabetic footwear and other related medical devices.
The Houston Award Program selects the highest performing businesses each year throughout a variety of industries to award them for their achievements. Recent years have been particularly important because companies that have been awarded have succeeded despite a difficult economic climate. The organization focuses their criteria on community involvement and customer service and utilizes internal data as well as a number of third party sources to make their selections.
As an organization that is active in the local Houston economy, the Houston Award Program works with Houston businesses, trade organizations, marketing groups, and professional associations to further Houston small business success and help create a community where local residents are proud to live, work and play. Proceeds to the organization go towards funding operational support, marketing and partnerships intended to improve the Houston economic environment.
ABOUT THE COMPANY
MMAR Medical was founded in Houston in 1990 as a wholesale distributor of medical equipment and supplies, including orthopedic braces, orthopedic and diabetic footwear and mobility solutions. Since its inception, MMAR Medical has grown to become one of the leading distributors of medical equipment and supplies in the country. Visit their website for more information on the company and available products.