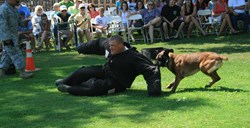 Fredericksburg, Texas (PRWEB) June 24, 2013
Who let the dogs out!? Well on July 13, 2013 at 10 a.m. the National Museum of the Pacific War will, when they host their annual War Dog program. The 341st TRS (Military Working Dogs) from Lackland AFB will be in the Memorial Courtyard of the museum that morning demonstrating what they are learning in training.
Following the program at 1 p.m. in the Nimitz Ballroom TADSAW (Train a Dog Save a Warrior) will give a presentation on the importance of the use of dogs for helping wounded warriors. Dennis Blocker, USAF (Ret) and his retired war dog Laky, will talk about their experiences and also dealing with dogs with PTSD (Post Traumatic Stress Disorder) and Patsy Swendson, founder of Pennys from Heaven, who trains and provides Therapy Dogs for returning military.
Both programs are free to the public. For more information, contact Brandon Vinyard at vinyard[at]nimtizfoundation[dot]org or by phone at (830)-997-8600 x205.
Dogs have been used in warfare dating all the way back to the Greeks who would send attack dogs complete with armor into the enemy lines. In WWI, the Germans and French used dogs as sentries, messengers, ammo carriers, and casualty dogs. In May of 1942, the U.S Army received the first nine dogs which gave birth to the U.S Army Canine (K-9) Corps. The Corps grew to 10,000 dogs before the end of the war.
Belgian Malinois and German Shepherds are the dogs most commonly used for military purposes due to their endurance, speed, courage, intelligence, keen sense of smell, and ability to adapt to almost any climate condition. Last year, these dogs put on a great program and this year will be no different so make sure to go by and see them at 10 a.m. on July 13th in the Memorial Courtyard of the National Museum of the Pacific War.
The National Museum of the Pacific War is a Texas Historical Commission property supported, operated, and managed by the Admiral Nimitz Foundation.