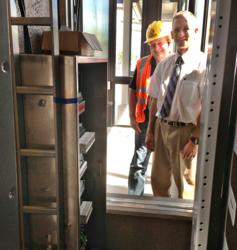 As rail lines are built & older infrastructure is upgraded with wireless control, communication and Positive Train Control (PTC) systems, the potential for risks is elevated with RF interference requiring careful analysis & mitigation.
Greenville, NC (PRWEB) June 24, 2013
When officials in Minnesota were planning a new light rail system that will link Minneapolis and St. Paul, one unique piece of hardware was needed in over 30 wayside equipment shelters along the route. Project managers and engineers involved in the Minnesota project needed a cabinet to hold radio frequency-sensitive equipment that will manage the many critical control systems including audio, video and telecom circuits along the new 11 mile route.
No company had an off-the-shelf product to fit the bill, so Minneapolis Light Rail project contractor Aldridge Electrical called on LBA to design a custom EMI protective telecom equipment cabinet. LBA provided a solution to meet the exact requirements.
LBA Chief Technical Officer Dr. Chris Horne, PE and LBA VP of Sales, Mike Britner traveled to Minneapolis-St. Paul in June to see the EMI protective cabinet installations. The rail system continues to undergo testing as officials prepare for opening the new Central Corridor sometime in 2014. This Minnesota project is the latest example of LBA's efforts to support several light rail projects around the US.
"As new rail lines in the US are built and older infrastructure is upgraded with wireless control, communication and Positive Train Control (PTC) systems, the potential for additional risks is elevated with radio frequency interference requiring careful analysis and mitigation to ensure electromagnetic compatibility," said Horne.
LBA is fully committed to producing solutions to mitigate PTC interference, manage RF safety and other EMI matters related to reliability and signal coverage along rail systems and rail right of ways. For more information on LBA's RF or EMI capability to provide solutions for railway communications and control infrastructure visit: http://www.lbagroup.com/services/lba-rf-engineering-capabilities-mobility-fixed-and-broadcast-services. Contact Mike Britner at mike.britner(at)lbagroup(dot)com, 252-757-0279.
About LBA
LBA Group, Inc. has 50 years of experience in providing RF asset solutions and risk management for industrial and telecommunications infrastructure. The company is comprised of LBA Technology, Inc., a leading manufacturer and integrator of radio frequency systems, lightning protection, and EMC equipment for broadcast, industrial, and government users worldwide; LBA University, Inc., providing on-site and online professional training; and the professional engineering consultancy Lawrence Behr Associates, Inc. The companies are based in Greenville, N.C., USA. Keep up with the LBA companies on Facebook at: http://www.facebook.com/LBAGroup.