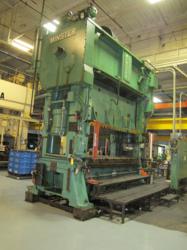 Two Featured Items are Minster 400 Ton Heavy Stamper Presses
Chicago, IL (PRWEB) June 23, 2013
HYPERAMS is selling excess equipment to the ongoing operations of Raybestos Powertrain, LLC and MPI Fineblanking through an online auction. These entities are both portfolio companies of a large private equity firm. The companies are expanding and creating space in their facilities for new equipment. The auction will close on June 27th starting at 11:00AM CST. Visit hyperams.com for more information or to register.
The auction will include equipment by major manufacturers, including Minster, Dennison, Greenerd, ROWE, COE, Littell, Herr-Voss, CNC, Okuma & Howa, Blanchard, Chevalier, Landis and more. Equipment includes heavy stamper presses, OBI presses, coil lines, CNC mills, machining centers, incinerators, grinders, material handling equipment and other miscellaneous machinery.
Two featured items are both Minster 400 ton heavy stamper presses. One press has a 6"x120"x54" T-slotted bolster plate, 0-50 SPM, 12" stroke, 6" slide adjustment, 36" shut height, 31"W X 20"T windows, (floor standing on 10"T pads), four shadow-5 safety curtains, Wintriss SmartPAC2 digital controls, data instruments Di-pro sensor interface and programmable cam outputs. The other press differs slightly with a 6"x108"x54" T-slotted bolster plate, 0-60 SPM, 8" slide adjustment, 31"W X24"T windows, (floor standing on 7" T pads), and one shadow-5 safety curtain.
The assets are located in Tipton, Indiana; Sullivan, Indiana; Crawfordsville, Indiana; Knox, Indiana; Deerfield, Wisconsin; and Greeneville, Tennessee. A preview of the equipment will be held on June 26th from 8:00AM CST to 4:00PM CST. The Tipton, Indiana location will also have an inspection on June 25th.
To register for the sale or for directions to equipment locations, please visit hyperams.com. If you have any questions regarding the sale, please call HYPERAMS at (847) 499-7049.
HYPERAMS upcoming auctions include: Excess Material Handling Equipment to a Major Canadian Retailer, Excess Equipment to the Ongoing Operations of Katun Corp., Biomass Energies Wood Pellet Plant, and Patriot CNC. For more information on these sales, please visit hyperams.com.
About HYPERAMS LLC
The HYPERAMS Asset Disposition Team focuses on investing in the excess assets of healthy and distressed companies operating in the middle market and below. HYPERAMS' Appraisal Team provides valuations of machinery and equipment in most industry verticals, and of consumer product inventory.