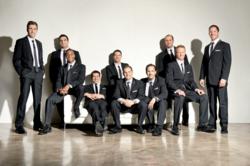 Modesto, CA (PRWEB) June 25, 2013
Straight No Chaser, the male a cappella singing group that was formed a dozen years ago at Indiana University and now enjoys worldwide fame, is being accorded a rare honor by the Gallo Center for the Arts. They will be making their second appearance in less than a year at the performing arts venue.
The group performed a holiday concert before a capacity audience on December 3, and Gallo Center chief executive officer Lynn Dickerson was eager to bring them back.
"Straight No Chaser simply enthralled the audience last year," said Dickerson. "Normally we would not bring an act back so soon, but we were delighted to make this exception."
The group's second appearance is Friday, August 16, at 8 pm. Tickets for the concert range in price from $19 to $69, and may be purchased online at GalloArts.org, by calling (209) 338-2100, or from the Gallo Center ticket office at 1000 I Street in downtown Modesto.
Straight No Chaser belies the familiar image of students in blue blazers, ties and khakis singing traditional college songs on ivied campuses. They are neither strait-laced nor straight-faced, but neither are they vaudeville-style kitsch. As original member Randy Stine comments, "We take the music very seriously; we just don't take ourselves too seriously."
In the process, they are reinventing the idea of a cappella on the modern pop landscape and in doing so they have acquired a massive fan base. Their videos on You Tube have been viewed more than 20 million times. On the road they have become a formidable attraction, performing before more than half a million people in more than 150 concerts, most of which sold out well in advance.
Straight No Chaser's most recent album, released last May, is "Under the Influence." It features duet tracks from guest artists such as Rob Thomas, Phil Collins, Seal and Dolly Parton.