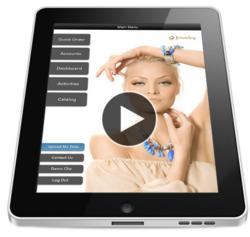 We're seeing about 30% more revenue since implementing SupeRep. -Anne et Valentin
Irvine, California (PRWEB) June 23, 2013
Sererra Consulting Group, a leading Green IT technology and management consulting firm, displayed SupeRep™, a plugin that provides automatic synchronization between SupeRep and NetSuite, where over 5,000 attended SuiteWorld 2013 on May 15, 2013 in San Jose, California.
Developed by WRNTY in collaboration with Sererra Consulting Group, SupeRep™ helps maximize the efficiency of sales reps by allowing them to perform sales processes in real time during customer visits. Sales reps now can bring their entire catalog of top-quality merchandise to buyers on the rich color and high definition of the iPad. SupeRep™ integrates seamlessly with the back office CRM for NetSuite, and tracks customer records, location, inventory, order history - while reducing administrative costs.
Sererra Consulting has been a provider of NetSuite since 2002. The company, which has been recently awarded with NetSuite's 5 Star award, will be WRNTY's exclusive Global Reseller Partner for all customers requiring NetSuite integration. They will promote SupeRep as the premier catalog presentation and order taking product for iPad, and next quarter Andriod & Surface tablets.
As a powerful Wholesale CRM™ tool, SupeRep™ is already getting good response from businesses around the world. The software is helping sales reps to increase sales and revenue. Users of this software are already quite excited about the kind of results they are getting. "We're seeing about 30% more revenue since implementing SupeRep™. It has made the sales process faster and more accurate," says Christophe Gilabert, Manager, Anne et Valentin. While Noa Shabi, CFO, Robin Ruth USA said that they have seen "an overall increase in sales of more than 25%, not to mention the reduction in administrative costs." Another user of SupeRep™, Vivian McDonald, Director of Sales, Signal Products, stressed on the app's ability to make "international order processing easier, faster and much more efficient."
SupeRep™ enables sales reps to access real-time data about products, inventory and customers, seamlessly connecting the ordering process with back office operations.
"SupeRep™ is an easy to use application that has helped so many companies around the globe improve efficiency in order taking and catalog management," said Vijay Saha, Founder & CEO of Sererra Consulting Group. Perfect for fashion and apparel, wholesale distribution and any other business that has sales reps as part of their model.
To download a trial version of SupeRep™ for NetSuite, and to watch videos or read more testimonials, head on over to http://www.sererra.com/SupeRep.
About Sererra Consulting: Sererra is a leading Green IT technology and management consulting firm focused on delivering turnkey business solutions for midmarket firms worldwide. The company's main areas of expertise include business process engineering, systems implementation, integration and custom software development, including cloud-based business processes for a wide range of industries. As a 5 Star NetSuite Partner and SDN System Integrator with over 700 implementations, Sererra provides clients with a complete, unified and integrated solution that enables business to grow more profitably.