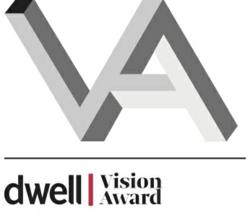 "With this award, we are thrilled to salute architecture and design professionals who are harnessing their creative imaginations to make the world a better place," said Amanda Dameron.
Los Angeles, CA (PRWEB) June 21, 2013
Dwell Media announced today its inaugural Vision Award -- a new editorial award presented in cooperation with the Big Ass Fan Company -- with the goal of honoring design visionaries who are moving modern design forward.
The award will recognize an architect or designer whose design vision is redefining how we live in the modern world. Special emphasis will be given to projects that seek to galvanize the public to affect change on a large scale, initiatives that encompass several design disciplines, the use of sustainable materials and methodologies, and work that demonstrates a dedication to helping people through good design. Dwell is accepting submissions until August 30, 2013 for projects completed in 2012.
The Dwell Vision Award will select three finalists, to be announced this fall, and one winner will receive an editorial spread in Dwell magazine including a studio profile and project feature. All three finalists will be featured on dwell.com and will be honored in New York at a VIP awards celebration, where the winner will be announced. Dwell, widely regarded as the leading voice in modern design, and Big Ass Fans, which designs and engineers the most efficient, effective and visually iconic fans in the world, aim to encourage and promote the industry's most progressive thinkers.
The award ceremony will be in New York on November 7, 2013. Led by Dwell Editor-in-Chief Amanda Dameron, the jury will also feature two supporting Dwell editors, Big Ass Fans General Design Manager Brian Smith, and one celebrity juror (to be announced).
"With this award, we are thrilled to salute architecture and design professionals who are harnessing their creative imaginations to make the world a better place. We believe true vision is only possible when it encompasses lessons from the past, acknowledges the realities of the present, and effectively alters the intellectual landscape for the future ahead," said Dameron.
"Recognizing those progressive thinkers who are altering the future of the built environment, the Dwell Vision Award encourages design with no precedence – or, as our tagline suggests, no equal," said Brian Smith, general design manager for Big Ass Fans.
For more details to enter go to: http://new.dwell.com/contests/dwell-vision-award.
For press inquiries contact Alexandra Polier, apolier(at)dwell(dot)com, 917-210-1735.
About DWELL MEDIA, LLC.
Dwell Media is the parent company of Dwell magazine, Dwell Digital + Mobile, Dwell on Design events, and the Dwell Homes Collection. Founded in 2000 by Lara Deam, Dwell has received countless industry awards and is widely regarded as a leading voice in the modern design movement. Championing a philosophy that is idea-driven and sensitive to social and physical surroundings, its enduring passion for design leads a passionate community of design-seekers to be "At Home in the Modern World." Learn more at http://www.dwell.com.
About Big Ass Fans
The Big Ass Fan Company designs, engineers and manufactures the world's most efficient ceiling fans for residential, commercial and industrial settings. Ranging from 5 to 24 feet in diameter, Big Ass Fans pair energy efficient motors with advanced airfoil technology to circulate large volumes of air. More than 100,000 Big Ass Fans are installed worldwide, providing comfort and energy savings in applications such as homes, hotels, health clubs, schools, restaurants, manufacturing plants, distribution centers, horse arenas, dairy barns and stadiums.