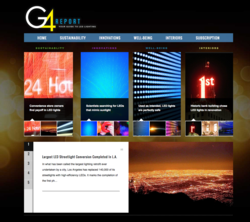 Add a Los Angeles's mayor boasts that his city has reduced carbon emissions more than any other city in the country, and the conversion has saved the city's taxpayers millions of dollars in energy consumption.
Toronto, Ontario (PRWEB) June 21, 2013
In this week's G4 Report: Former president Bill Clinton was on hand at the beginning of the Los Angeles streetlight conversion project back in February, 2009; his Clinton Climate Initiative provided some support for the work. Now that phase 1 is complete more than four years later, and 140,000 streetlights throughout the city have been replaced with low-energy, high-efficiency LED lights, Los Angeles's mayor boasts that his city has reduced carbon emissions more than any other city in the country, and the conversion has saved the city's taxpayers millions of dollars in energy consumption. And the LED revolution continues, in some cases one building at a time. An iconic bank building in the city of St. Paul Minnesota found its lighting solution in LEDs when it renovated, and a popular hotel in Texas got a new look with LEDs as well.
"Largest LED streetlight conversion completed in L.A."
It isn't just the cost savings, though those are real, and substantial. By the city of Los Angeles's estimates, converting its 140,000 streetlights to LED will save the city more than $7 million a year. And it isn't just the reduction in greenhouse emissions, though the streetlight retrofit will cut those emissions by the equivalent of what 10,000 cars produce each year. And that is certainly important in a city like Los Angeles, as the mayor points out. It isn't even just the reduction in crime that Los Angeles has documented since the conversion to LED lights began: burglaries and car thefts and vandalism are all down significantly, some believe because of the improved lighting in residential neighbourhoods. But perhaps the best result of all is that once again the sky is visible at night. Read more about the L.A. LED retrofit here . . .
"Historic bank building chose LED lights in renovation"
An iconic bank in St. Paul, Minnesota, one whose glowing red rooftop sign has been a beacon on the city's skyline for more than seven decades, was in need of a renovation. Built at the same time as another American icon, the Empire State Building in New York City, the St. Paul bank was constructed with the flair and exuberance characteristic of the time—polished marble and brass and ornate stonework and wood carving adorn the building, and in the lobby and main floor hallways, 2.200 incandescent lights were used to highlight the beauty of the building. The original lights were eventually replaced with cold cathode fluorescent lights a few years ago, but the look wasn't right. What management wanted was something closer to the original look, and they found it in a specially designed LED light. Read more . . .
"Popular Texas hotel lights up with LED"
A major hotel in the Texas city of Austin was faced with a familiar challenge to businesses everywhere: how to make the energy dollar go farther. The hotel is popular with Austin locals, tourists and convention goers, and has even been awarded a TripAdvisor Hotel of Excellence Award for 2013, so the issue was not related to quality. The hotel management just wanted to make things even better, and save money on lighting at the same time. Still, taking a chance and replacing more than 1,000 lights with a product you aren't that familiar with is a daunting prospect for anyone. The hotel was convinced that it was the right thing to do, and the results are better than they had expected. Read more . . .
About The G4Report
The G4 Report is a comprehensive and entertaining source for news and information about LED lighting in all its applications, with an emphasis on commercial applications. Anywhere that LED lighting is saving businesses money and improving their environmental performance, G4 Report there to report it, under one of the following categories:

Innovation: stories about the latest LED R&D and what consumers can expect to see in the future: LiFi, anyone?
Sustainability: learn how LED lighting helps reduce greenhouse emissions and landfill.
Well-being: from hospitals to NASA to light therapy, LED lighting is having a profound effect on the way societies provide health care.
Interiors: innovative new LED lighting products are changing the way we approach interior design, making it possible to do things never imagined before. G4 Report cover them all.