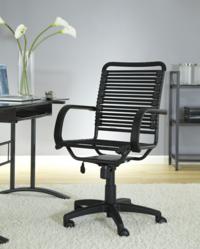 San Francisco, CA (PRWEB) June 25, 2013
Since 1998 when Euro Style began importing and distributing the Bungie Collection they have been among Euro Styles best-selling products.
Euro Style Bungies are patented (beware of counterfeits) and have strong Bungee cord loops that fit body contours for a self-adjusting customized fit.
Bungies come in high back and low back models, tilt, swivel and have gas lifts. Come in and say hello to our Bungie stars.
Retailers can order Bungie Chairs and all other Euro Style products from the California warehouse or by factory direct consolidated container programs. The company ships out of its Northern California Warehouse the next business day after orders are placed.
Corporate offices are in San Rafael, California; the High Point, North Carolina Show Room is located in the IHFC Building, C354 and the Las Vegas Showroom is located in World Market Center B-601 & B-675.