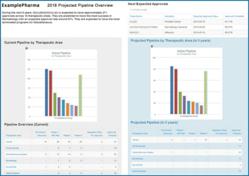 Norwood, MA (PRWEB) June 24, 2013
Infinata's BioPharm Insight™ is pleased to announce the exclusive launch of Pipeline Progress™ at the Drug Information Association (DIA) Annual Meeting in Boston. Pipeline Progress is a revolutionary and unique analytic tool which uses a proprietary algorithm and leverages a massive historical database of drug and trial outcomes to determine the statistical probability of phase advancement, and ultimately approval, for an individual drug.
The Pipeline Progress algorithm considers variables such as therapeutic area, indication and current phase. It can also be applied on the company level to predict portfolio makeup at a particular point in the future as well as indication or therapeutic area level to understand shifting dynamics in a market.
"BioPharm Insight provides objective and quantitative Pipeline Progress scores, alongside subjective and qualitative opinions from subject matter experts as captured by independent investigative journalists, to provide you with a complete picture of a drug's clinical outlook," said Ruth McHenry, Managing Director of Infinata. "No other product provides the comprehensive overview and drill-down detail on which drugs are likely to be approved. We believe Pipeline Progress will be the ultimate guide for biopharma R&D and investment."
Read an informative article detailing Pipeline Progress as reported by Deborah Borfitz of Clinical Informatics News.
Initially developed in part due to a customer request for more insight into likely drug approvals and future pipeline mix trends for specific companies, Pipeline Progress will offer unique benefits for diverse markets:
Biopharma Companies -- For business development, Pipeline Progress scores can identify the best candidates that fit an in-licensing strategy. By incorporating these scores into searches users can quickly filter out compounds that are least likely to make it to market and focus on those that have the best chance. For market research, competitive intelligence and portfolio strategies, companies can use scores to rank competitors' compounds against their own and get real-time updates when scores change.
Financial Markets – For the Buy Side, companies can use Pipeline Progress scores in conjunction with investigative journalism to identify investment ideas that the market may be missing. For the Sell Side, these scores enable analysts to better value companies using a probability-adjusted revenue stream.
Service Companies – Pipeline Progress will enable companies in the service area to plan for Key Accounts with projections that provide an understanding of what their pipeline will look like in five or ten years based on current trends. They will anticipate for market shifts and identify programs that have historically been difficult in order to offer outsourced assistance.
To learn more, sign up for a free trial of BioPharm Insight featuring the new Pipeline Progress tool.
About BioPharm Insight
BioPharm Insight is the definitive guide to the global biopharma community. BioPharm Insight provides subscribers with an information edge by combining the most comprehensive real-time database of companies, drugs, contacts, M&A and licensing deals, forecasts and clinical trial data with proprietary forward-looking intelligence uncovered by an independent team of investigative journalists months or even years before it breaks in mainstream media. To learn more, visit http://www.biopharminsight.com or follow BioPharm Insight on LinkedIn and Twitter.
About Infinata, Inc.
Infinata provides personalized technology solutions to turn information into insight. Services include a comprehensive BioPharm Solutions Suite, unique Wealth Prospecting tools and innovative Custom Data Services. Infinata is a part of Mergermarket, a Financial Times Group company and a division of Pearson plc. To learn more, visit http://www.infinata.com.