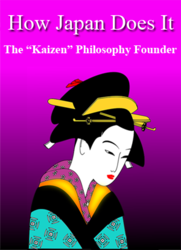 "It was a great help to our class. It helped illustrate processes such as Total Quality Management and Just in Time that we are teaching in our department." T.P. , San Jose State University, College of Business
San Ramon, CA (PRWEB) June 25, 2013
Get Kaizened Inc. (GKI) a Lean Training and Consulting firm in Northern California, Bay Area, has recently joined forces with a Consulting firm in Tokyo, Japan. This collaboration will definitely enhance the value of GKI's services many fold. Get Kaizened Inc. now delivers its "hands-on" training in the area of Lean and in almost any industry, in form of Japan Kaikaku Tours.
As you know, "Kaizen" is an evolutionary and incremental approach to improvement, on a regular basis, while Kaikaku in nature, is compact, concentrated and revolutionary!
The "real" value for both concepts will be made clear iff (if & only if) they are supplemented with hands-on activities and relevant projects. Additionally, one can only claim to be knowledgeable both about the theory & application, whenn (when & only when) one sees it in Action.
All the workshops include exercises and simulations to drive the concepts, ideas and terminologies, home. We believe that once participants get hands-on practice and learn it kinesthetically, they will gain the know-how and the confidence.
When Gemba (the shop floor, where the value is created) is available, an actual project or a derivative of it, may get tried out there to generate the "real" benefits. Implementing Lean projects or trying out ideas at the Gemba will have different benefits:
1.) Once implementing on the shop floor, the Team Members, who are involved, will gain deeper understanding of the subject matter.
2.) The "first" step is taken and thereby the rest of the implementation process will be more likely. It's the Start that stops most people!
3.) Others, who may not be part of the implementation team, may get encouraged to check out the concept applicability in their respective area(s).
In Japan Kaikaku Tours, the U.S. C-Level executives from various organizations and industries can stay in Japan for one week. This stay will include attending pertinent and essential Lean Production and Lean Management training workshops, taking tours of Companies in different industries, participating in Reflection and Q & A sessions and enjoying the sightseeing and the superb Japanese hospitality!
This short, rich and compact Japan Kaikaku experience will equip the C-Level managers and executives with imperative knowledge and know-how that otherwise will require much longer time, efforts and cost!
For dates, fees and more detailed information, please contact Get Kaizened Inc. at:
Email: Info(at)GetKaizened(dot)com
Phone: 925-242-2589