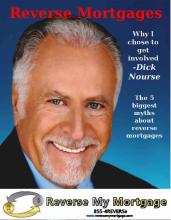 The reverse mortgage calculator shows accurate and very insightful results.
Salt Lake City, Utah (PRWEB) June 25, 2013
What are the benefits of using RMM's reverse mortgage calculator?
With the online tool that is planned to be launched by RMM in the summer of 2013, seniors planning for retirement will have the ability to get accurate estimates for their HECM loans. This online tool will give people accurate estimates for how much they could receive monthly for various expenses including: medical bills and supply, house payments, monthly income and even show them the lump sum they could be receiving. It is important to get as much information as possible before applying for a reverse mortgage this is what this reverse mortgage calculator tool is intended to do. RMM wants to release this tool to help people get a better knowledge of what a reverse mortgage is and how it works, and to help them determine if this type of loan is right for them.
Get properly educated by the reverse mortgage pros from RMM.
For somebody that is getting ready to take that long awaited vacation that is known as retirement, they might want to look into whether a reverse mortgage is right for them or not. Figuring out if one of these loans is the right decision is not easy, it is important to know all of the pros as well as the cons that can come with the loan. That is what the employees of RMM want to help people with and is the soul purpose they are launching a reverse mortgage calculator in the summer of 2013. RMM wants to be able to give people the proper education and the proper tools that they need before making the decision of applying and possibly receiving one of these loans. The reverse mortgage pros from RMM are well experienced and can help anyone determine if they are suited to receive any type of HECM loans.
What is RMM trying to achieve with the release of their new online tool?
When RMM decided to release their online tool in the summer of 2013, they had the idea that they would be able to help people get the information they needed in order to apply for their HECM loans. The intentions that they have are to help educate people on the benefits they could receive as well as what they could be at risk for when receiving this type of a loan. Providing people with the tools to they need to get accurate estimates on what they could be receiving monthly, will allow people to better plan for their retirement and help them enjoy it.
For more information on RMM visit them at their website: http://www.mortgagereversecalculator.com/.