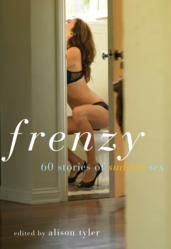 (PRWEB) June 22, 2013
Rose Caraway, of the popular podcast The Kiss Me Quicks, was featured as an example of a success story in an article about creating a successful audiobook on Audible.
She reviewed the new Cleis murder/mystery novel The Killer Wore Leather and hosted a guest post from the author, Laura Antoniou, about the making of the audiobook, and Antoniou's thoughts on the audiobook/ebook trend.
Caraway has turned Gotta Have It, edited by the remarkable Rachel Kramer Bussel, into an audio bestseller. She and Bussel collaborated to produce a special promotion that included the release of the free audio version of a few of the short stories from Gotta Have It, including "Police Dogging" by Elizabeth Coldwell.
Other Cleis bestselling audiobooks that are perfect for summer listening include:
Frenzy, edited by Alison Tyler
An unabashedly lustful selection of "brief encounters" of the sexual kind.
Orgasmic, edited by Rachel Kramer Bussel
With 25 stories focused on female orgasm, there is something here for every reader.
Passion, edited by Rachel Kramer Bussel
Passion offers succulent stories sure to quicken heartbeats while appealing to the most romantic of souls.
Best Women's Erotica 2012, edited by Violet Blue
Violet Blue knows what women want: smart, literate, pulse-racing women's erotica.
Dream Lover, edited by Kristina Wright
An exhilarating collection filled with fantasy lovers.
Fairy Tale Lust, edited by Kristina wright
Something wicked and wanton this way comes