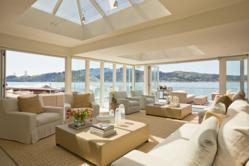 Obviously, within the "Flipping" niche there exist a wide spectrum of opportunity for those intrepid enough to deal with the uncertainties and foibles of what may lay behind foreclosed doors.
Rancho Mirage, California (PRWEB) June 26, 2013
Has the thought of flipping houses; buying them and then selling them for big profits ever crossed your mind? Quite a bit of that has been going on since the 2008 financial crisis, when home prices crashed. However, now the suppressed residential real estate market is showing a glimpse of financial recovery.
Many different theories of flipping homes abound. In fact, a cottage industry of minor celebrities has sprung up espousing their success or lack thereof at applying their particular strategies to generate profits. TV shows such as "Flip this House" broadcasting on A&E chronicles the exploits of various entrepreneurs as they claw their way through mishaps, misfortunes and misadventures, somehow making a profit at the end no matter how bleak the circumstances surrounding their flip projects become. Basically, viewers are convinced that despite every pitfall and decision dilemma encountered, in the end one can't help but make money flipping houses.
After multiple appearances on "Flip this House" virtually unknown individuals such as Armando Montelongo, Jr, Rudy Martinez and Peter Pasternack to just name a few have taken on personas as Flipping Gurus that have compiled all the answers to the hazards that befall those that venture into this enterprise with little to no experience. Unfortunately, creating for many hungry entrepreneurs to be the erroneous perception that making money at the flipping game is a walk in the park with little risk despite all the disclaimers to the contrary.
Another example is the hilarious TV show "Flipping Vegas" also on A&E starring a married couple by the names of Scott and Amie Yancy. The core story-line elements of the show are the colossal battles in which they engage during their flipping projects. Scott fights tooth and nail to maintain his "illusionary" budget based upon his perception of time, economics and craftsmanship while Amie determinedly plows ahead armed with her nebulous design ideas to add high-end amenities and quality materials. Somehow it all works out in the end as Scott usually concedes to Amie's good taste as her budget overages end up resulting in the home receiving rave reviews from prospective buyers. Meanwhile, they drive to and fro in a fleet of expensive cars monitoring their array of projects and ostensibly raking in tons of cash as they manage to solve all the dilemmas they encounter. Neither has any formal training, special skills or talents regarding real estate but demonstrate the value of risk versus reward on a consistent basis.
Additionally, Designer Jeff Lewis of Bravo Channel's "Flipping Out" fame initially gained notoriety by exposing viewers to his theory of flipping homes from a Designer's perspective. However, the real estate crisis soon forced him to revert to basics and concentrate on utilizing his designer skills to generate profits. His TV show evolved as well morphing into "Interior Therapy" by quite successfully examining the idiosyncrasies of a wild and sometimes wacky cast as well as customers yet somehow managing to display the inherent beauty, sophistication and intelligence of a designer's sensibilities.
Obviously, within the "Flipping" niche there exist a wide spectrum of opportunity for those intrepid enough to deal with the uncertainties and foibles of what may lay behind foreclosed doors. Who's to say that one theory over another is the best way to consider flipping houses? Are the days of quick cosmetic fixes gone now that the real estate market seems to be on the rebound? Can a seller ignore the demand for high-end amenities and finishes that buyers are looking for in today's market? Is it wise to take on more complex and expensive projects as opposed to simple single family dwellings where small remodel budgets can yield profits in fast time-frames?
Let's explore one of the recent projects completed by Designer Martin Kobus of Martin Kobus, Inc. a respected Bay Area design firm. A modest, unassuming desert home located behind very private gates in the prestigious resort community of Rancho Mirage in Palm Spring California. Acquired by Mr. Kobus in 2011 for $640K and carefully planned at a remodel budget of $600K resulting in a total project cost of $1.2 million. Four months later after completion in December 2012, the newly designed villa sold for $2,000,000. A total profit of $800K was realized and the property was totally transformed by the process! Mr Kobus explains, "I don't consider myself as a home "flipper," because in my opinion the term implies risk, uncertainty and limitations. I have a sterling reputation in the design industry as well as growing a recognized brand so I seek projects that possess a quantifiable 'extraordinary potential' as opposed to more commonplace family dwellings. When that 'extraordinary potential' is perfectly transformed into 'potential realized', through vision, meticulous planning and seasoned design sensibilities then that achievement trumps risk and uncertainty any day."
The real estate redevelopment niche is not for the faint of heart but for the "no guts, no glory" type of investor who are not adverse to risk this can be an area that can prove to be very financially rewarding. Martin further states, "This is not our 1st rodeo. My design firm has taken on several properties that have been totally redeveloped and yes we made a stunning return on our investment." It is an established fact the new-home sales have risen sharply, according to the National Association of Realtors. As well, previously owned homes are enjoying a nice rebound in the market. This is a strong indication that the residential real estate market is poised for a resurgence and there once again exist a financial opportunity.
Currently, home sales are demonstrably stronger than ever. And so are opportunities to flip them. Martin Kobus is engaged in expanding his property acquisitions and increasing his brand awareness. Savvy individuals interested in joining Mr. Kobus in his quest may contact his publicist Susan Browne at 951.225.1599 to discuss their current property needs, acquisition interest, joint-ventures or investment possibilities.