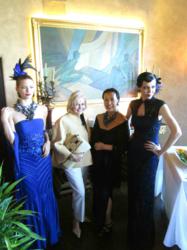 Los Angeles, CA (PRWEB) June 24, 2013
Acclaimed designer SUE WONG recently welcomed the ladies of the Los Angeles County Museum's (LACMA) Costume Council for an intimate by-Invitation gathering for its Patron and Fashion Circle members. Highlighted by an informal presentation of the very latest Sue Wong Collection, the event was attended by some of the city's leading socialites, philanthropists and patrons of the arts, as well as fashion journalists. Sue treated her guests to an extensive tour of her home – The Cedars, a historic Hollywood estate that she had painstakingly restored to the former splendor of its 1920s origins. Distinguished by a hallowed Hollywood legacy and adorned with opulent art and furnishings, The Cedars served as the perfect backdrop for the gathering. Sue then opened up to the Costume Council for an in-depth Q & A session providing insight into her life as a designer and her distinct brand of Hollywood glamour.
Widely recognized for its traditional couture craftsmanship underscored by iconic visual and textural themes, the Sue Wong collection received unanimous raves from the Costume Council. From glamorous cocktail dresses to floor length evening gowns, the showing served as a glimpse into the kind of red carpet worthy fashions for which Sue Wong has been known for the past several decades. Her Fall/Holiday 2013/2014 collection is inspired by the Great Gatsby era, hand-embellished with feathers, layers of luxurious fabric, and intricate beading. This aesthetic, combined with Sue's belief in honoring the female form, results in pieces that allow each woman to embrace her inner goddess. Alongside Sue's collection was a display of pieces from Vilaiwan Fine Jewelry by designer Joe V. who creates unique statement necklaces, earrings, and bracelets from a wide range of semi-precious stones perfectly complementing the Sue Wong style. Refreshments, music and casual mingling amongst the guests rounded out the rest of the afternoon's festivities.
ABOUT SUE WONG
For over two decades, Sue Wong has been astonishing fashion aficionados with collection after collection of ravishing dresses that prove to be both timeless and timely. Distinguished by the impeccable quality of traditional couture dress making, her designs are suffused with Old Hollywood glamour, steeped in romance and mystery, while being utterly modern and accessible to women everywhere. Sue continues to forge new ground in defining fashion that transcends generations and boundaries even as she creates masterpieces of passion and desire expressed through inimitable style. Sue Wong is available from $229 to $829 nationwide at specialty boutiques, major department stores including Neiman Marcus, Saks Fifth Avenue, Nordstrom, Bloomingdales, Lord & Taylor, Macy's, and internationally in over 27 countries. http://www.suewong.com
ABOUT LACMA'S COSTUME COUNCIL
The Costume Council, which supports LACMA's internationally recognized Costume and Textiles Department, is the largest of LACMA's art councils. Established in 1954, the Costume Council provides extraordinary resources to expand audience awareness of fashion, design, costume and textiles, while increasing the breadth and depth of LACMA's world-class Costume & Textiles collection. [http://www.lacma.org/costume-council