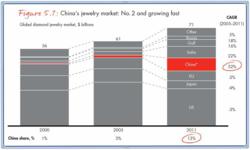 "It's hard to find a tangible asset that provides safety, transportability, and the potential for strong returns. That's exactly what Investment Diamonds provide
Los Angeles, California (PRWEB) June 27, 2013
Despite the economic uncertainties faced within the United States, many financial experts agree that one of the most stable and predictable trends of the next decade is the consistent growth of emerging markets like China and India.
According to Bain & Co, there are anticipated to be an additional 276 million middle class households in China and India by 2020, which is three times the current amount of middle class households in the United States (Bain & Co.). These new households are anticipated to fuel unprecedented demand for diamonds, creating a bull market in diamond prices that have many financial experts calling this decade, "The Decade of Diamonds".
After a series of major structural changes in the diamond industry, diamonds are now trading on supply and demand fundamentals for the first time in over a century. With all existing diamond mines currently operating at peak production and rapidly increasing demand from abroad, savvy investors are seeing diamonds as an attractive way to take advantage of the global growth trend by taking ownership of physical investment diamonds. "It's hard to find a tangible asset that provides safety, transportability, and the potential for strong returns. That's exactly what Investment Diamonds provide," says Chris Duffield, Managing Partner at Investment Diamond Exchange. "Furthermore, we are already observing large amounts of speculative capital flowing into this asset class as we get closer to the launch of the Diamond ETF. History tends to repeat itself, and we all saw how gold prices doubled and later quadrupled leading up to and following the release of the gold Exchange Traded Fund, from 2003-2011." With diamond prices trending higher, let us now take a look at what makes the diamond market tick.
Consumer demand has the single greatest impact on the price of wholesale diamonds. Simply put, as consumer demand increases, so does the price of loose diamonds for sale. However, an additional tailwind to diamond price appreciation seems to be right around the corner. Matt Manson, CEO of Stornoway Diamonds, predicts 15-20% of future world diamond demand will be attributed to investments rather than jewelry. "We're right on the cusp of this developing," He says. "People have been trying to look for the mechanism to create diamond investment vehicles and right now it looks like the moment for doing this. This is one of the big themes in the diamond business right now!" (Forbes.com). With unprecedented levels of speculative capital set to flow into the diamond market and supply and demand fundamentals highly conducive for diamond price appreciation, it becomes clear why investment diamonds are poised to become one of the best performing tangible assets of the decade.
About Investment Diamond Exchange
Investment Diamond Exchange (IDX) is an internationally recognized diamond exchange located in Los Angeles, California. Investment Diamond Exchange was founded by a team of hedge fund traders and industry specialists to offer individual and institutional investors a liquid and price transparent market for 1 through 5 carat, round brilliant, GIA certified Investment Grade Diamonds. Through strategic partnerships with diamond cutting factories all over the world, the Investment Diamond Exchange is able to provide their clients with the lowest polished diamond prices available. Investment Diamond Exchange knows first-hand that liquidity is critical for investors, and the Investment Diamond was created specifically to help investors liquidate their diamond positions effortlessly.
Disclosures
All information supplied including data, charts, news, and quotes are for informational uses only and are not intended for trading purposes. Furthermore, all information provided is not to be rendered as professional advice. By viewing the Investment Diamond Exchange website you agree to waive any and all claims against Investment Diamond Exchange, LLC and its partners with regards to the accuracy contained or supplied by this website or its distributed materials.