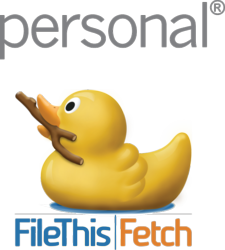 Mill Valley, CA (PRWEB) June 24, 2013
FileThis (http://www.filethis.com), a consumer online bill and statement delivery company, and Personal (http://www.personal.com), a web and mobile vault for individuals to securely store, share and reuse their most important information, announced today that FileThis can now securely deliver bills and statements from more than 200 companies to their private data vaults on Personal.
FileThis uses its "fetch" technology to automatically retrieve online bills and statements from the world's leading companies, including ADP, Amazon, American Express, AT&T, Bank of America, Capital One, Chase, Charles Schwab, Citi, Comcast, Fidelity, Macy's, Paypal, T. Rowe Price, United Healthcare, Verizon and Walmart.
With today's announcement, individuals can increase convenience, help the environment by going paperless, and rest easy knowing that their documents will be protected with the same encryption algorithms that banks rely on.
Connecting FileThis to a Personal account is easy. Simply sign up or log in to FileThis, choose Personal as the delivery destination, and select the bills and statements FileThis should deliver to Personal.
With FileThis and Personal, consumers will get:

Automatic Delivery: Import bills and statements to Personal as they become available.
Secure Storage: Personal protects data vaults with 256-bit AES encryption and RSA 2048 asymmetric key encryption.
Easy Access: Get bills and statements on the go with Personal's iPhone and Android apps.
Secure Sharing: Securely share important documents through Personal with anyone in your life who needs access to them.
"Partnering with FileThis is yet another way Personal is helping consumers to get control over and benefit from their information online. People can now automatically import, organize and have easy access to copies of their important bills and statements in their data vaults on Personal," said Personal co-founder and CEO Shane Green.
"We're proud to partner with Personal to help empower people with their data and most important documents. Personal's data vaults and security provide an ideal way for consumers to securely manage the information that powers their lives," said FileThis founder and CEO Brian Berson.
For more information, read our blog post and visit Personal.
About Personal
Personal gives individuals a web and mobile platform and vault for securely storing, sharing and reusing their important data, notes and files at home and work, connecting them with trusted people, organizations and apps in their lives. Built on a privacy- and security-by-design platform, Personal helps individuals to properly leverage their data so they can realize the most value from it – all with the peace of mind that the data in their vault remains legally theirs, they always know who can access it, and it can't be shared without their permission.
About FileThis
FileThis automatically fetches your online documents from your financial and household accounts as they become available and delivers them to the destination of your choice - including your desktop or your Personal account. The documents are delivered as well-named searchable PDF files and automatically organized. Users are notified via email whenever a new document is fetched.