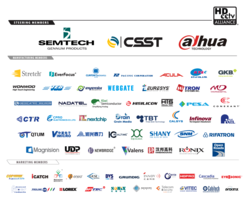 Dahua's leadership position in the HDcctv Alliance demonstrates our commitment to the HD surveillance market.
Sydney, Australia (PRWEB) June 24, 2013
Leading surveillance equipment manufacturer ZheJiang Dahua Technology Co., Ltd. and high-definition surveillance standard body HDcctv Alliance Limited today announced that Dahua has joined the Alliance as a Steering Member and taken positions on the Alliance's Board of Directors.
"Dahua is one of the world's largest, fastest-growing surveillance equipment manufacturers," said Zhu Jiangming, Executive Vice President of Dahua. "We offer a complete portfolio of equipment, including analogue cameras and DVRs, MP IP cameras and NVRs, and most recently HD-SDI cameras and DVRs. Our leadership position in the HDcctv Alliance demonstrates Dahua's commitment to the HD surveillance equipment market: widespread adoption of the HDcctv standard that guarantees quality and multi-vendor interoperability is essential as the demand for HD surveillance accelerates."
"Dahua plans to be an active Steering Member, driving both the marketing and the technical agendas of the HDcctv Alliance," added Henry Zhang, Dahua's Vice President of R&D, recently appointed as a Director of the Alliance. "Dahua began developing HD-SDI cameras, HD-SDI DVRs, and accessories in 2008, and we look forward to beginning to certify our products as compliant with the HDcctv standard. That will ensure that electrical performance meets customers' expectations and, more importantly, that our HDcctv-compliant products are 100% out-of-the-box plug & play with HDcctv-compliant products from other manufacturers."
"Dahua focuses on the needs of customers, and we want to grow the HDcctv market as fast as possible," said Yin Jun, Dahua's Vice-Director of R&D, recently appointed as an Alternate Director of the Alliance. "We recognize that multiple, complementary technologies may best meet the range of market requirements. We hope that Dahua's innovative HDCVI technology can be adopted as an HDcctv physical layer that is complementary to HDcctv XR and HDcctv CX. A common protocol, as well as common compliance certification testing across multiple media, will be very efficient for manufacturers of HD surveillance equipment."
"The ultimate goal of the HDcctv standard is to transport high-quality HD video over the same cable types as analogue CCTV, leveraging exactly the same technical skill sets, ultimately at the same low price points," said Todd Rockoff, Executive Director of HDcctv Alliance. "Dahua's unique perspective on the diverse needs of the surveillance market, coupled with its extensive technical resources, promises to contribute greatly to the HDcctv standard. Dahua's participation as a Steering Member of the HDcctv Alliance is likely to accelerate the worldwide migration to HD surveillance."
About ZheJiang Dahua Technology Co., Ltd.:
Dahua Technology Co., Ltd., headquartered in Hangzhou, China, is a world-leading manufacturer and supplier of video surveillance products. Over the past decade, Dahua Technology has grown into a total solution provider with its continually growing product portfolio, ranging from diverse, reliable CCTV products to IP solutions.
With the spirit of integrity, professionalism, responsibility and innovation, Dahua people will continue to spare no effort to develop more innovative and reliable products to serve customers.
For additional information about Dahua, visit http://www.dahuasecurity.com.
The Dahua logo is a trademark of ZheJiang Dahua Technology Co., Ltd.
Dahua Media Contact:
Yin Jun
+86-18969077252
yin_jun(at)dahuatech(dot)com
About the HDcctv Alliance:
The HDcctv Alliance is the surveillance equipment manufacturers association that manages the HDcctv video interface standard.
Only certified HDcctv-compliant products bear the distinctive HDcctv compliance marks, which stand as a guarantee of electrical transmission characteristics, 100% multi-vendor interoperability, and compatibility across generations of HDcctv-compliant products.
Useful links:

"HDcctv Alliance," the HDcctv compliance mark, and the HDcctv Alliance logo are trademarks of the HDcctv Alliance registered in Australia and in select countries worldwide. "HDcctv 1.0" and HDcctv 2.0" are trademarks of the HDcctv Alliance pending registration.
HDcctv Alliance Media Contact:
Todd Rockoff
+61-2-8005-8284
rockoff(at)highdefcctv(dot)org