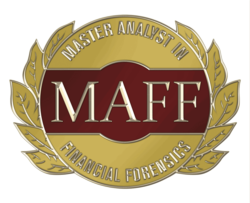 "The MAFF announcement is nothing short of the historically professional manner in which NACVA has created and enhanced the value of membership." Jeff Donovan, CPA, CVA, MAFF
Salt Lake City, UT (PRWEB) June 24, 2013
Effective April 12, 2013, the name of the Certified Forensic Financial Analyst™ (CFFA™) certification was changed to Master Analyst in Financial Forensics™ (MAFF™).
"We believe the new MAFF name will elevate the perception of who and what our CFFA members stand for to a higher status than before and makes the statement that when it comes to financial forensics, we are the 'Masters' of this field," states Parnell Black, MBA, CPA, CVA, and NACVA's CEO. "Anyone who has taken the training and passed the exams surely knows this fact."
NACVA will continue to acknowledge the CFFA in literature and related websites to help facilitate and support CFFA members transitioning to the MAFF. Beginning October 12, 2014, the CFFA will be completely phased out of all Association literature. It is also the date by which credential holders must fully transition to using MAFF in place of CFFA.
"The new MAFF credential represents much more than a name change. The accompanying professional standards, the body of knowledge, and the unparalleled training will be clearly reflective of a new standard of excellence in the field of financial forensics," said Michael Kaplan, CPA, CVA, MAFF, ABV, CFF, and President of NACVA's Financial Forensics Institute™.
"While I was initially apprehensive about the change, I'm now delighted it was done. The issue came up during a recent deposition. I was able to demonstrate that I have a Master's level certification in financial forensics. This change has already proved very useful to me," said Michael Pakter, CGMA, CVA, MAFF, CFF, CDBV, CIRA, CFE, CPA, CA, with Gould & Pakter Associates, LLC in Chicago, IL.
"The MAFF announcement is nothing short of the historically professional manner in which NACVA has created and enhanced the value of membership. I appreciate being part of an organization that handles matters with high professional standards," said Jeff Donovan, CPA, CVA, MAFF, with Donovan CPAs and Advisors in Avon, IN.
"The MAFF name change is spot on! Thanks to NACVA, I currently have litigation consulting and expert witness cases going in Arkansas, Missouri, Nebraska, New York, Pennsylvania, and many in Texas," stated Paul French, CPA/ABV, CFE, BVAL, MAFF, ABAR, CDBV, with Lain, Faulkner & Co., P.C. in Dallas, TX. "I attribute this in part to the exceptional training, certification, and the investment of time and resources NACVA devotes to brand awareness for its members."
NACVA offers practitioners seven different specialized training and credentialing pathways to acquire the MAFF. These areas—bankruptcy, insolvency and restructuring; economic damages; business and intellectual property damages; business valuation in litigation; forensic accounting; fraud risk management; and matrimonial litigation—have common underpinnings yet with their own unique set of dynamics which sets the MAFF apart from financial forensics programs that are more generalized. The MAFF educational programs are presented by a team of nationally recognized financial forensic experts who are leaders in their respective fields.