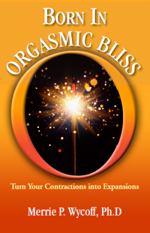 A woman has the natural ability and strength to deliver a baby safely and comfortably, under normal circumstances, without the use of drugs or medical intervention
Denver, Colorado (PRWEB) June 25, 2013
Is it possible to use natural remedies to go through and then recover quickly from childbirth? According to Dr. Merrie P. Wycoff, author of "Born In Orgasmic Bliss: Turn Your Contractions into Expansions," women can use these methods with success. For example, Wycoff points out, "From premature labor to overdue labor, there are a myriad of homeopathic remedies to aid in the process, or to move the process along." Wycoff's goal is to let expectant mothers know that they can have a wonderful, natural, drug-free birthing experience.
"Unfortunately the business of labor and delivery in America has become over-medicalized," said Wycoff, who is a mother, author and doula-in-training.
Wycoff added that childbirth is supposed to be a part of a woman's natural, whole-life experience. "A woman has the natural ability and strength to deliver a baby safely and comfortably, under normal circumstances, without the use of drugs or medical intervention," she said.
Wycoff's tips provides 9 steps to how to experience and recover from natural childbirth. Topics include natural remedies for morning sickness, homeopathic remedies for labor, and how to effectively deal with postpartum depression.
"Classical homeopathy has been in use for over 200 years, originating in Germany," said homeopath Sonya McLeod, in an article on the Prenatal Coach blog. "It involves the use of only one homeopathic medicine at a time to treat a variety of common health complaints, including difficulties experienced during childbirth." McLeod added that natural remedies are safe and non-toxic when used properly.
Dr. Merrie P. Wycoff is a Denver, CO based author who has worked previously at Entertainment Tonight as a lead story segment producer where she wrote, directed and edited. Since 1985, Dr. Merrie P. Wycoff has been writing with her first book published in 2012 entitled, Shadow of the Sun, an award-winning paranormal historical fiction set in ancient Egypt. She is a member of the Rocky Mountain Fiction Writers, the Crested Butte Writers, AuthorU, and the Egyptian Study Society. Dr. Merrie P. Wycoff currently has a Masters Degree in Metaphysics, a Ph.D. in Comparative Religion with Sedona University, and an Egyptology Certificate through the University of Manchester in Great Britain. Her new organization, WOMBSisterhood, meaning Women's Orgasmic Mindful Birth Sisterhood, was founded to teach women how to overcome fear and pain and turn childbirth into a bliss-filled experience.
For more information on Dr. Merrie P. Wycoff, please contact the main office by visiting her website at MerriePWycoff.com for more information.