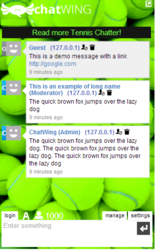 Dallas, TX (PRWEB) June 23, 2013
Chatwing creates another step in the viral marketing arena by improving its video upload option for all chat rooms. With this improvement, chatroom visitors can now upload their custom-made videos, as long as they are in the form of links. The primary target of this new step is the viral marketing community, but website owners and bloggers were advised to utilize the upgrade.
Chatwing's video upload option can be accessed in the real-time chatroom control panel. This is different from the dashboard since it functions in real-time, and not at the backend. By uploading video content, marketers can reach hundreds of web users in just few days. Aside from videos, visitors can also upload images.
Based on the short study conducted by Chatwing chat software team, the first release of the video upload option was used, primarily, by techies who want to relay app tutorials. Web designers have also benefited from Chatwing's video service, as they managed to share their insights step by step.
Chatwing's dedication for the improvement of its chat app can be measured by the updates introduced every now and then. These updates were meant to ensure that web users are getting the most from their Chatwing connectivity experience. To keep users well-informed, Chatwing Team will release pre-update data and content on Facebook, Twitter, and a its blog series.
About Chatwing.com
Chatwing.com specializes in the new field of live chat software for website chat. Over years, the Chatwing team has introduced live chat widget for hundreds and thousands of blogs. The Chatwing application bridges people from many parts of the world, creating global synergy through the Internet. The shout box can be installed in just seconds, and it can be used for varying purposes such as leisure and Internet marketing. It also allows a user to customize the size, color, and name of the widget.