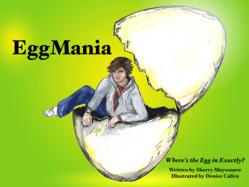 EggMania is a highly interactive, award-winning, kidsSAFE iBook
Austin, Texas (PRWEB) June 25, 2013
EggMania – Where's the Egg in Exactly?, a new ebook app for children, has been certified and awarded the kidSAFE Seal. Written by Sherry Maysonave and illustrated by Denise Caliva, EggMania is an enhanced ebook targeted at children ages 6 -12.
Available on the Apple iBookstore for the iPad, EggMania is a highly interactive, educational ebook. Acknowledging that learning is a multi-sensory experience, EggMania was created to educate and entertain children growing up in a digital world. EggMania is the first ebook in the ManiaTales series.
The kidSAFE Seal certification program was created to help parents and educators select safe, interactive environments for kids. Smartphones and tablets have created new digital, online parenting challenges. Parents can better manage and optimize their children's screen time by leveraging certified, children-friendly websites and kidSAFE interactive iBooks like EggMania,
EggMania was awarded the Best Children's Illustrated eBook IPPY 2013 Bronze Medal. The ManiaTales series, produced by Empowerment Productions, focuses on "interactive imagination" and advanced digital learning techniques that enable kids to interact with words and illustrations through technology. EggMania includes expansive vocabulary (more than 100 advanced words and definitions), award-winning original art, narration with sound effects, animation, tongue-twisting rhymes and a hunt-and-find game with over 150 mind-bending fun facts. The next book in the ManiaTales series, EarMania: Where's the Ear in Regardless? will be released in the fall of 2013. EggMania provides safe online fun for children, and hours of entertainment and learning for their parents, too!
Available: EggMania is available for $9.99 on the Apple iBookstore. View the ebook's entertaining video trailer and ebook educational tips for parents and educators at http://www.maniatales.com.
###