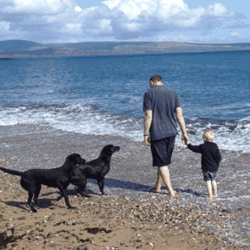 Keep kids safe: worming your cat and dog at least every three months, poop scooping, and washing hands, are key to prevention of toxocariasis.
(PRWEB UK) 24 June 2013
Have we forgotten the real reason we don't like dog and cat poo?
Roundworms, which can be killed by using a suitable dog wormer or cat wormer, produce eggs that are passed in pet poo and can infect humans with something called Toxocara. This can infect eyes and organs leading to blindness, seizures, weight loss, breathing difficulties and even death. Although in the majority of cases the parasites die in a few months Toxocara is often misdiagnosed and can show mild symptoms such as cough, temperature, headache or stomach pain, but often there are no symptoms.
"Kids are most at risk, especially those aged between 2 and 4," says Ben Watson of Hyperdrug online specialists in animal and human healthcare. "This may be because they are more likely to play in soil and put their hands in their mouths." A survey estimated that 15-25% of sandpits tested were contaminated with Toxocara. Public Health England state on their website that 2-10% of the western world are seropositive, meaning they have antibodies from exposure to Toxocara.
So how do we get infected? The roundworms in dogs and cats produce eggs which are passed by poo into soil and, if small particles of contaminated soil gets into people's mouths, they can develop toxocariasis. The eggs are sticky which may help them to cling to fingers, toys and food. Importantly, fresh poo carries little risk which is why it is vital to poop scoop and dispose of poo promptly by burning or in garbage. The eggs become infectious after about 10-21 days and can survive in sandpits and soil for months.
Prevention and awareness are key. The NHS have issued these steps that should be taken.
Pet owners should:

Regularly worm puppies and kittens, and adult dogs and cats should be wormed at least every three months.
Poop scoop and dispose of poo immediately
Keep pets away from kids sandpits and cover the sandpit when not in use
Clean around your pet's living area at least weekly
Teach kids about the infection possible from cats and dogs, puppies and kittens.
People should:
Wash your hands well with soap and warm water after handling pets or coming into contact with soil or sand.
Teach children always to wash their hands after playing with dogs or cats, after playing outdoors and before eating.
Wash food that may have come into contact with soil.
Try to avoid letting children play in areas where there is a lot of dog or cat faeces.
Teach children that it's dangerous to eat dirt or soil.
If you think that you may have become infected with Toxocara you should consult your GP.